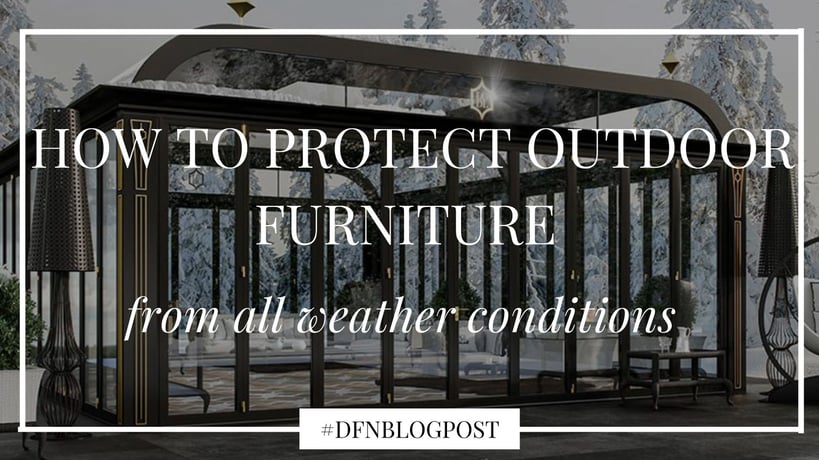 Setting up an outdoor furniture scenario—be it a luxury cooking area, an elegant living area, or a welcoming conversation space—means creating a welcoming place that is unique in terms of style and function. Each area reflects the technical-aesthetic needs of the client in each project. But all clients have one requirement in common: luxury furnishings with an elegant appearance that can also offer strength and durability.
When selecting the furniture elements for outdoor furniture projects, design and performance are an inseparable combination.
It is not only important to choose furnishings with a sophisticated and above all resistant appearance but also essential to take care of them based on the materials they are made of.
Luxury outdoor furniture is manufactured with highly resistant materials to atmospheric agents.
However, to best preserve their durability and beauty over time, it is advisable to follow some maintenance precautions to keep them clean and in optimal shape.
Where should you start then? In this article, we will give you some key tips for protecting outdoor furniture from the elements.
5 tips to protect every piece of outdoor furniture depending on its materials
For each outdoor furnishing atmosphere to maintain its appearance over time and last as long as possible, it is advisable to protect the furnishings from the elements and adopt special precautions for some materials. Below you will find everything you need to know about how to protect outdoor furniture with our 4 guidelines:
Let's continue step by step.
1.
Opt for a protective structure
To instill a welcoming, convivial, and protected outdoor climate, you could go for protective structures capable of offering comfort and functionality, but without sacrificing style, such as:
A bioclimatic pergola
Bioclimatic pergolas are among the ideal solutions for living in and protecting outdoor spaces.
These structures are equipped with a roof made with motorized adjustable slats, which guarantee, if necessary, absolute protection from bad weather. They also allow you to regulate solar intensity and provide natural ventilation.
A luxury gazebo
Another valid solution that ensures comfort and protection. If you are interested in designing a luxury gazebo, let yourself be inspired by our Sole Collection.
A conservatory
A conservatory is a refined architectural solution in iron and glass capable of creating an outdoor room with all the comforts of indoor environments. By designing a conservatory, you will create a unique synergy between the surrounding nature and the livable space.
In fact, these two areas as a whole will be more integrated, thanks to the presence of large windows and sliding doors that guarantee continuous interaction with the outdoors.
The elegant combination of high-performance and exquisite materials, such as iron and glass, gives life to sophisticated solutions that can be divided into three in a classic, modern, and glamorous style. Each genre is designed to satisfy everyone's taste, from the most sophisticated to the most traditional.
A living area protected by large umbrellas
For a fresher and less demanding touch, you could opt for the design of a conversation area or living area—complete with outdoor sofas, armchairs, and coffee tables—in the shade of large and sophisticated umbrellas, made with the most precious and resistant fabrics suitable for the outdoors.
For proper cleaning and maintenance, the umbrella canvas must first be dusted and then washed with non-aggressive soap and a uniform jet of water. Aggressive detergents should be avoided as they attack the film that makes the fabric waterproof.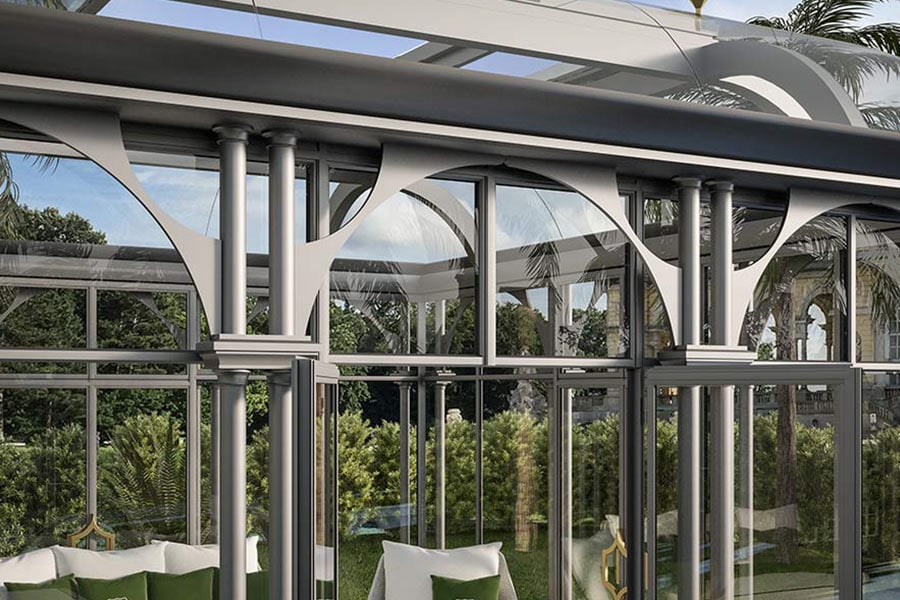 2. Choose protective covers for each piece of furniture
To better protect furnishing elements designed for comfort and relaxation—such as sofas, cushions, armchairs, deck chairs, poufs, etc.—choose protective covers made with certified technical materials that guarantee breathability and water resistance.
The covers are easy to apply and allow you to protect the furniture from sudden summer disturbances so that they can be reused immediately afterward or to cover the furniture during periods of inactivity.
Protective covers are also available for more complex objects, such as outdoor kitchens, in case your clients want to optimally protect their outdoor kitchen areas.
In this case, we advise you to opt for luxury outdoor kitchens equipped with the best protective covers that perfectly follow the kitchen shapes, to cover them and give them an orderly appearance.
In addition to these optional covers, DFN kitchens are designed to have covers that are part of the structure itself. The models belonging to the Linear Kitchen line by Samuele Mazza are the perfect example of how design and functionality can be perfectly outlined in elements of high technical and aesthetic performance. In particular:
Each of these outdoor kitchens is equipped with a sliding cover or flap and allows you to protect the kitchen top when it is not in use. It also makes it look like a piece of furniture, for example, a console or cupboard, once closed.
You can lift or slide the lid manually, or with the help of a remote control, and find yourself in front of a worktop equipped with elements for cooking and washing. In some cases, the cover becomes a comfortable support surface or even a table for eating.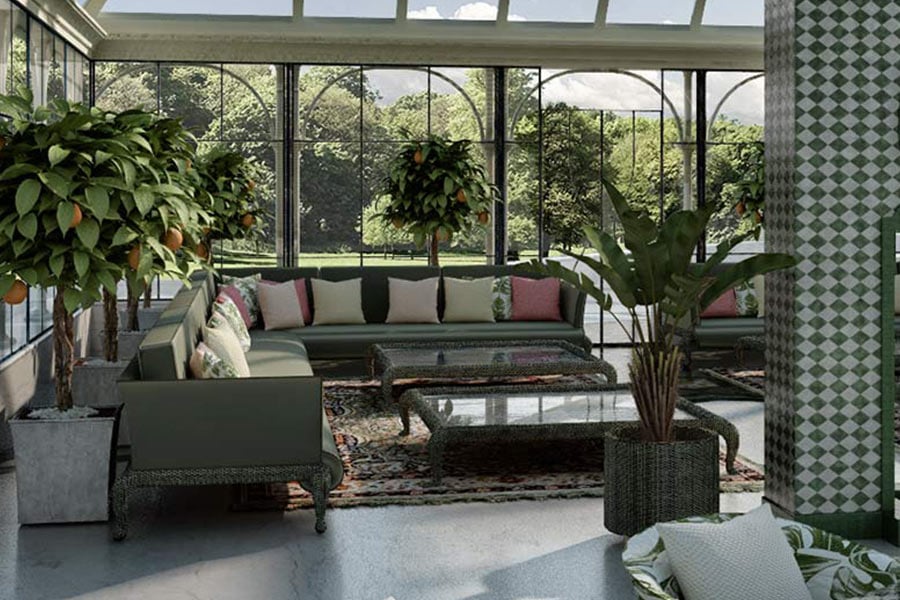 3. Treat the woven resin furniture with care
Maintenance for woven resin furniture is quick and easy: simply clean it with soap and water and a soft sponge.
Standard maintenance:
To clean it, use a soft cloth/brush with water and, if necessary, a neutral detergent.
Do not use solvents or alkaline detergents, which could damage the fabric. Avoid chemical detergents, aggressive solvents, rigid brushes, and high-pressure water so you do not deteriorate the material's surface.
Never scrape the surface.
Remove the dirt on the surface by washing it off with water and using non-aggressive detergent products with the help of sponges and/or soft rags.
Rinse thoroughly until all detergent or soap residues are completely eliminated. If the dirt persists, repeat the operation.
Spray cleaner (Chanteclair or similar) on the surface and let the cleaning solution sit for 1 minute.
Brush the surface repeatedly in a circular motion using a soft bristle brush.
Rinse with plenty of water, as it is very important to avoid residue drying on the surface. Then wipe it down with a dry cloth.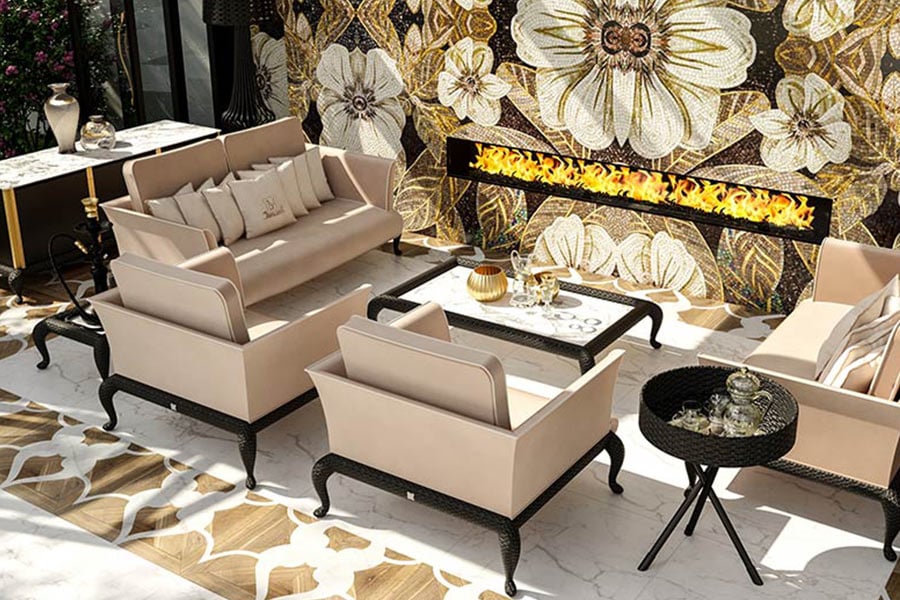 4. Keep accessories in a protected place when not in use
Also, take care of small pieces of furniture and various accessories—such as cushions, vases, ashtrays, design accessories, etc.—and try to find a place to store them and keep them tidy.
For this function, you could opt for outdoor cabinets or chests: they could be the most suitable space-saving solution.
Despite the excellent quality materials, even the smallest detail can deteriorate due to bad weather and atmospheric agents, so it is important to store items safely and in a dry area, away from possible sources of heat, humidity, and UV rays.
Follow our tips to protect your outdoor furniture and keep it looking beautiful
In this article, we have shown you how to best protect the furnishings of the outdoor furniture scenario commissioned to you.
Follow our guidelines carefully and make sure that your clients do it, too. In this way, they will always be able to enjoy an elegant, comfortable, welcoming, performing outdoor space that will never lose its aesthetic potential.