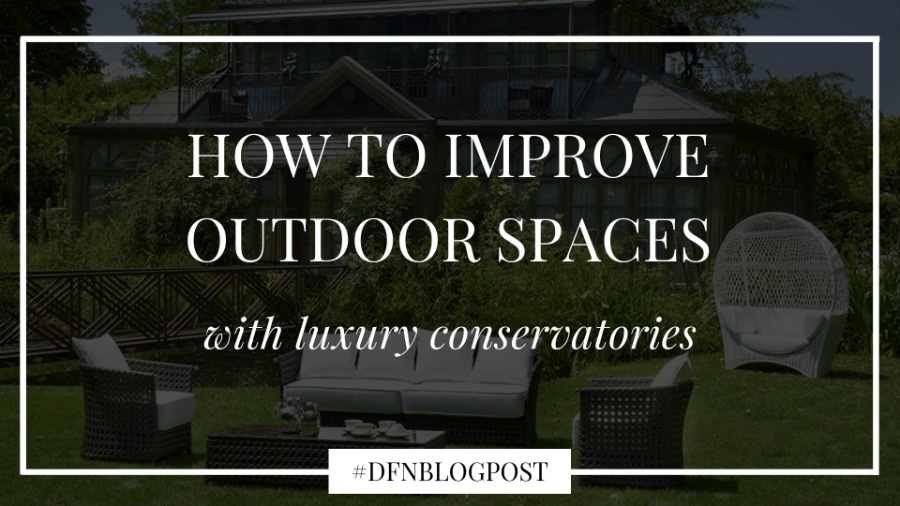 Luxury conservatories represent a beautiful space for all clients who love spending time in the garden
and want, or need, a solution that gives them the feeling of being in an open area while remaining inside. In short, a luxurious environment to enjoy all year round.
Designing a winter garden means not only creating a structure with a design befitting the current construction but also filling a more or less large space, ensuring that it is practical and functional, as well as aesthetically pleasing.
The living space of luxury conservatories over the years has undergone noticeable improvements, so much that their installation is more in demand than ever. Not only because it is a liveable environment all year long but above all for its contribution to the property.
Nowadays, thanks to technological developments and technical characteristics of the materials used, the room can meet any required purpose, in relation or in addition to the existing structure.
For example, leading conservatory manufacturers, such as DFN, offer customers a wide range of finishes and decorations to choose from to ensure spot-on harmony with the project you have in mind.
DFN offers an interesting range of conservatories in iron and glass with modern, classic or glamorous lines, with an ultra-thin frame to allow maximum brightness through large insulated windows.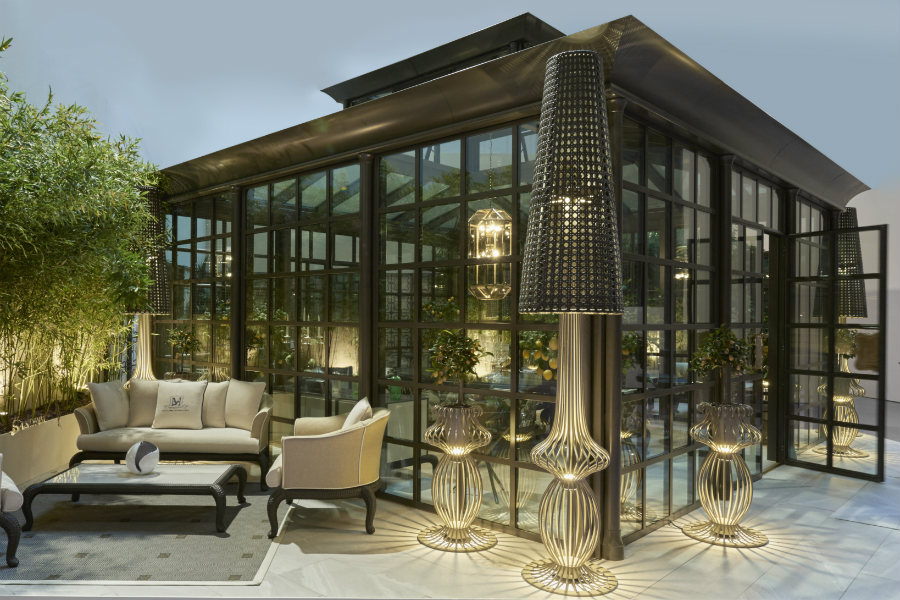 How luxury conservatories improve outdoor spaces
If the client desires to extend the property or create an additional outdoor room, the best solution is certainly a garden winter.
Experienced as a personal refuge or meeting place, or designed for a fitness area or swimming pool, its qualities and performance must give us the desired comfort. Therefore, every detail assumes importance for the correct realisation of the project.
DFN promises to enrich outdoor spaces through luxury conservatories entirely made of thermal break iron and insulating glass equipped with every comfort.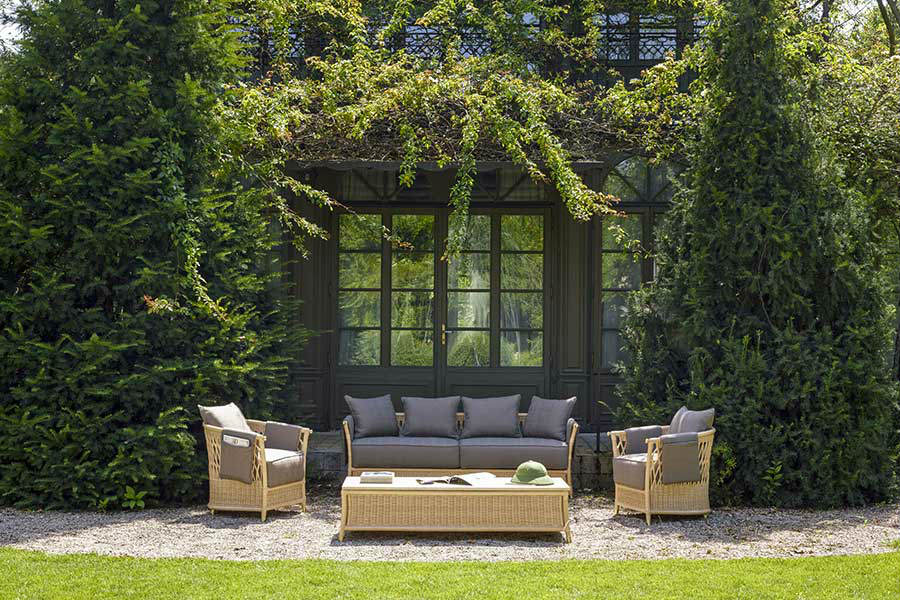 Customisation completes luxury
The winter gardens and outdoor facilities design service, made available by DFN, allows you to create a space that responds to size, style and function of use for your personal needs, fusing style, technology and uniqueness.
DFN offers a customised design process whereby the finished work can include:
heating and air conditioning

shading solutions
lighting
sound system
floors
furniture
green layouts
Luxury conservatory proposals can also be adapted to the specific environment.
The decorations and finishes can be studied in a contemporary or classic way, drawing on elements from the surrounding environment to blend perfectly with the space that houses the structure.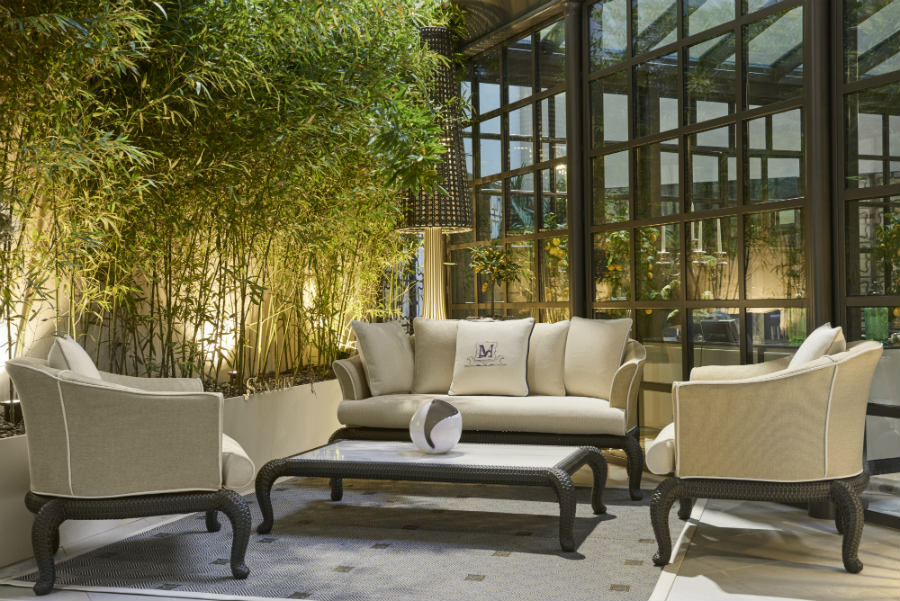 Improve outdoor spaces with luxury conservatories: the example of Doha
In Doha, Qatar, DFN has demonstrated its ability to live up to the high expectations of the most demanding customers through the construction of a winter garden as an exclusive chocolate shop. An entirely custom-made project realised in a location with climatic conditions that required the use of finishes that are highly resistant to weathering.
The classic appearance of the structure, entirely built in iron and glass, hides the latest generation of technological equipment, such as an important system of integrated air conditioning for guests' comfort and scenic and suggestive lighting.
DFN thus combines the high value of functionality with aesthetic research; the result is a luxury conservatory that hosts hundreds of people daily, created to respond to the specific needs of the client and the place where it was to be installed.
In fact, each element was customised, from the particular shape of the structure leaning on two existing walls to the golden embellishments on the external façades, up to the handles and the floors, the latter made with precious cement pastes with decorations from a specific design desired by the client.
The Doha project, followed by a dedicated team in every single phase, from the drawings to the installation, demonstrates not only the ability of DFN to cross national borders and be an undisputed partner for any external project, in which it is necessary to match performance and exclusivity, but also how a luxury conservatory can be functional and make outdoor spaces unique and special.
Furnishings suitable for luxury conservatories
DFN, with its furniture collections, is able to handle both the design of the winter garden and interior furnishings by putting a wide range of elements at the client's disposal.
For example, with the "Outdoor Light Collection" by Samuele Mazza, the room lights up with noble forms with a classic taste thanks to decorative and technological creations in which light and matter blend and complement each other.
Lampposts, floor lamps and arc lamps, suspensions and wall fixtures: everything is designed to complete the furniture proposals in a coordinated way and create harmonious contemporary luxury, for an unprecedented total outdoor look.
As far as lighting is concerned, the scenic floor lamp Sun, made of iron treated for outdoor and produced and distributed by DFN, is an element with a great scenic value that can add a touch of class and originality to its environment.
The proposed lamp solutions, all rigorously handmade like any other furnishing element from the outdoor collection, ensure an extremely elegant decorative effect and represent a symbol of undisputed excellence.
Among the luminous elements, in addition to the lamps, there is also a pot planters section that offers objects of great charm that allow you to host plants and illuminate the environment at the same time.
As for the furniture, however, a table made of varnished iron rods with special metal finishes surrounded by chairs with soft upholstered velvet cushions is a luxury proposal that perfectly harmonises with a luxury conservatory. The set described is called Yucca and is part of one of the proposals that DFN offers its customers for a dining room with a great personality through the "Demetra" collection by Samuele Mazza.
This family of outdoor furniture consists of tables and chairs, as well as armchairs, sofas and tables, with proportioned lines and unusual finishes.
In the "Siderale" collection by Samuele Mazza, in addition to iron elements, there are many different products in synthetic rattan that give life to rich and elegant-looking accessories. In addition to the classic elements of furniture such as armchairs, chairs, etc., the range of products provides particular objects such as the bioethanol fireplace. Inserting this object inside a luxury conservatory will make the atmosphere warm and welcoming, absolutely refined and sophisticated, for an elegant and luxurious environment that won't go unnoticed.
All the elements of the Samuele Mazza collection offer comfort without precedent, no matter the choice of model or where the installation may be. Furthermore, in virtue of craftsmanship, the elements of the collection can be customised by size and feature.
Finally, for clients who prefer natural materials, the "Orangerie" collection by the Samuele Mazza Outdoor Collection is the most suitable proposal. It is the result of patient and meticulous work, involving the manual interweaving of materials such as rattan and wicker.
A passion for detail characterises the entire selection, in which ancient materials like rattan and wicker give life to objects with an elegant look and spectacular, unique pieces like the sophisticated Shaula armchair or the majestic Aldebaran armchair that offer a glamorous and timeless style, for a real luxury conservatory.
Start planning a haven of peace for your clients
To date a luxury conservatory can really answer any request and intended use, bringing plenty of natural light into the space and offering a connection to nature with all the advantages of an indoor area.
With the customised design service offered by DFN, you can start building a luxury conservatory that your clients have always dreamt of, improving their outdoor space.
Not only because they will get an added liveable and comfortable environment all year round, but also for the charm of these structures, conceived in relation to the environment, the existing construction and their needs, complete with every detail and comfort.
The "La casa dei limoni" collection proposed by DFN reflects on the theme of gardens in winter in a completely new way. The client will experience a play of chromatic colours, styles, lines, decorations, shadows and lights that give life to charming iron and glass work.
In addition to the models in the collection, the client can combine the elements that characterise each style to make their own personal solution.
All you have to do is decide, with the client, how to use the space and then furnish the environment accordingly.
The three collections proposed by Samuele Mazza previously presented can make it easier for you to choose interior accessories, ensuring a refined and timeless environment, with the infinite possibilities offered by personalisation.