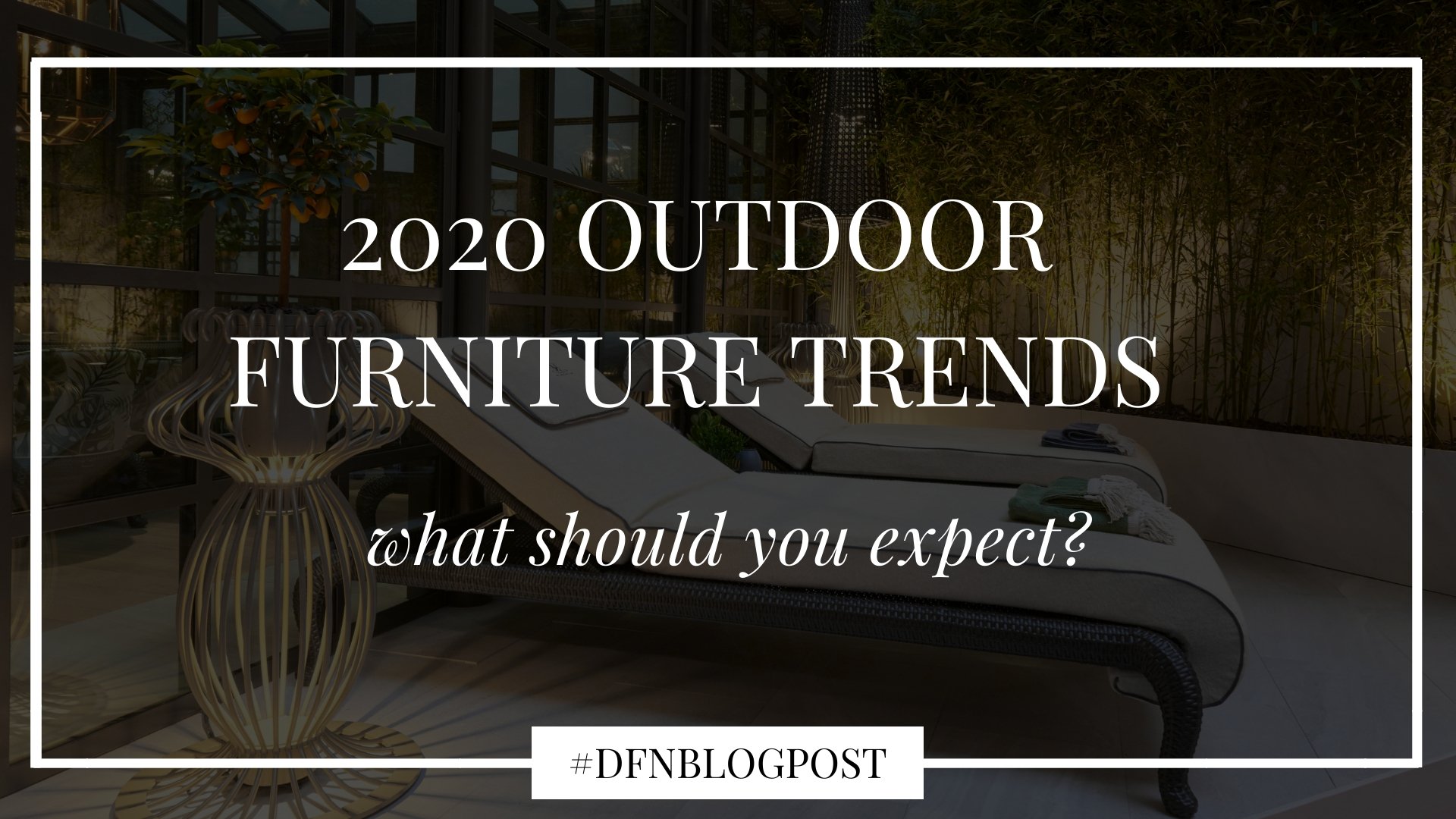 2020 has just begun and there is already an air of novelty in the outdoor furniture sector. This year inaugurates a new decade and therefore represents a turning point, at least on a symbolic level, for every question concerning style and design.
The winter period, by the way, is perfect for renewing the furnishings of outdoor spaces, pending the arrival of the warm season, when all these innovations can make a good show in the gardens and terraces of the most fashionable villas and the most prestigious apartments.
Homeowners and real estate investors know this well and are keen to embrace, and sometimes to anticipate, the various new trends on the horizon. The most brilliant designers therefore must be ready to take the opportunity.
Although it's always fun to discover a new trend, it's often not easy to figure out what changes to make. The trends, in fact, are constantly moving and with different rhythms. In many cases, novelty emerges suddenly, while other stylistic currents have already been around for a long time and are becoming, little by little, something else.
At DFN, we are fortunate to work constantly alongside top-level designers and experts, which keeps us in touch with the most diverse stylistic influences in the outdoor furniture sector every day. It seemed right, therefore, to share with our readers the main outdoor furniture trends for 2020, to help them make their own choices.
Outdoor furniture trend for 2020: the outdoors like a room in the house
The area outside the house is very often the first space that a visitor sees on arrival. This entails, year after year, a progressive increase in the importance of outdoor furniture . Today, we can safely say that the preparation of outdoor spaces has become fundamental. Moreover, it is considered a true extension of interior design.
The border between the indoors and outdoors, therefore, tends to fade, as shown by the trend of exploiting gardens and large terraces as extensions of the living room. Furniture adapts to this trend and becomes more elegant and refined, perfect for tastefully furnishing even the hybrid zone where the boundary between the outdoors and indoors is more nuanced.
Now more than ever, homeowners and real estate investors want to transform their patios into fully usable and enjoyable spaces like the internal ones, enriching them with a large number of furnishings, functional elements (outdoor kitchens, audio systems, televisions, etc.), walls of planters and much more.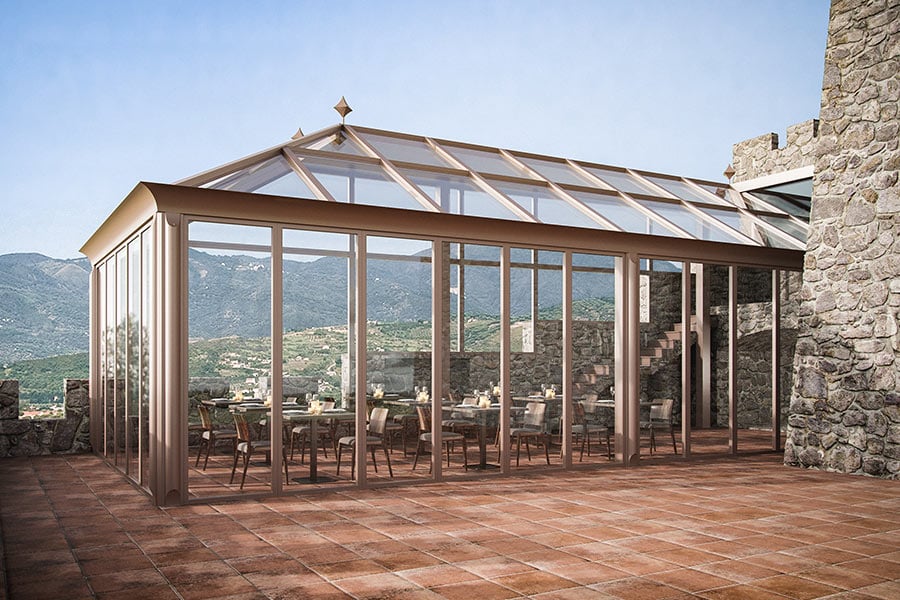 Outdoor furniture trends for 2020: maximum comfort
Precisely because of the continuous evolution of outdoor spaces into areas to be fully lived, the search for well-being and habitability becomes more important. All outdoor professionals agree that comfort is one of the most resistant trends in garden furniture.
This year's outdoor furniture will then be (and the Salone del Mobile 2020 will confirm it) very comfortable, soft, and welcoming. Regardless of your favorite style, everything must be thought of to promote serenity and positive feelings. Outdoor seating, for example, is no longer rigid like before but offers comfort, without compromising its resistance to time and atmospheric agents.
The trendiest garden furniture collections offer padded seating, with comfortable and spacious shapes, for more relaxation. Large cushions and sofas with generous proportions create a pleasant enveloping effect. Another trend is suspended furniture: chairs, armchairs, hammocks but also hanging beds that allow you to swing without worrying about a thing.
Being comfortable certainly means being able to relax alone in your green area, but it also means being able to spend time outdoors with your family or friends. From the point of view of furniture, this means having more seating and larger tables available, suitable for hosting more people.
Better still if these elements are easily transportable, so that you can adapt the layout to the amount of guests expected from time to time.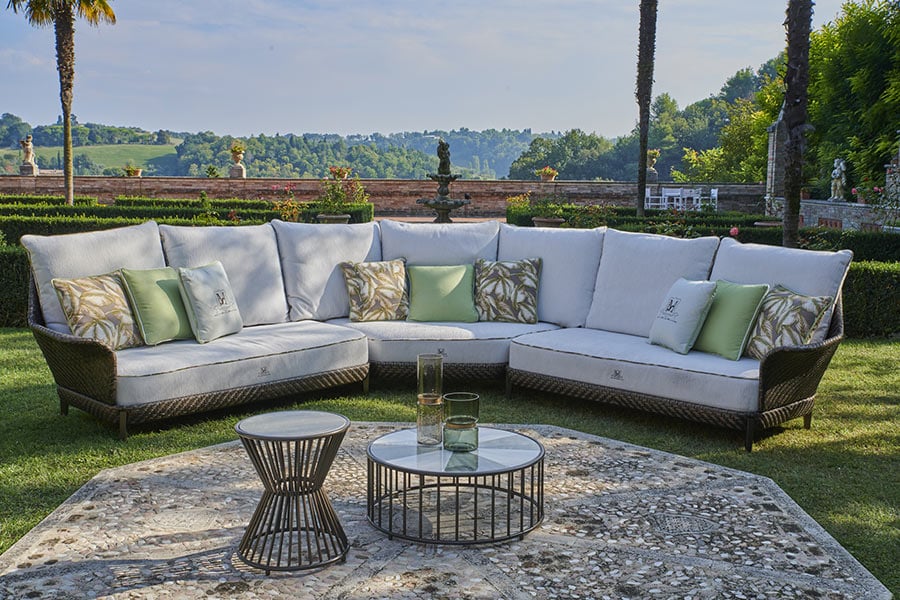 Outdoor furniture trend for 2020: natural materials
The external areas of the house are those most related to nature. In a context in which the whole world of furniture focuses on natural materials, in outdoor furniture you want them even more.
The 2020 outdoor furniture trends plan to combine different materials in the same set-up. Weaves are back in the limelight, so much so that wicker and rattan are now present in most of the top-level projects. Wood and fabrics are also preferred, together with various types of metals, especially iron, aluminum and steel.
Whichever material you adopt, the biggest limit concerns resistance to time and climatic agents: outdoor furniture is subject to a large amount of atmospheric stress, from rain and sun, to sudden changes in temperature.
This is why in many cases the choice falls on natural elements only in appearance: synthetic rattan and ceramic marble guarantee an appeal equal to that of the materials they imitate but have much better performance over time.
Outdoor furniture trends for 2020: accessories
We have already introduced the issue of functionality, which is increasingly relevant in outdoor environments, so, attention to the external appearance but also to the possibility of using spaces in a concrete way.
For this reason, a few chairs, a chaise longue and a garden sofa are no longer enough. The outdoor furniture trends for 2020 include many accessories , capable of transforming a garden or terrace into open-air rooms. So, go ahead, add tables, poufs, dessert sets, tea sets and so on, all elements with practical utility, as well as decorative capacity.
Objects of a textile nature also multiply in outdoor spaces.Outdoor rugs are now a consolidated trend and pillows, towels, tablecloths, throws and layettes designed to withstand the sun as well as bad weather are also added.
The goal is to interpret the outdoors in a more personal way, in a very similar way to what is already done with the internal rooms of the house, a trend that we will see impose itself at the next Salone del Mobile 2020.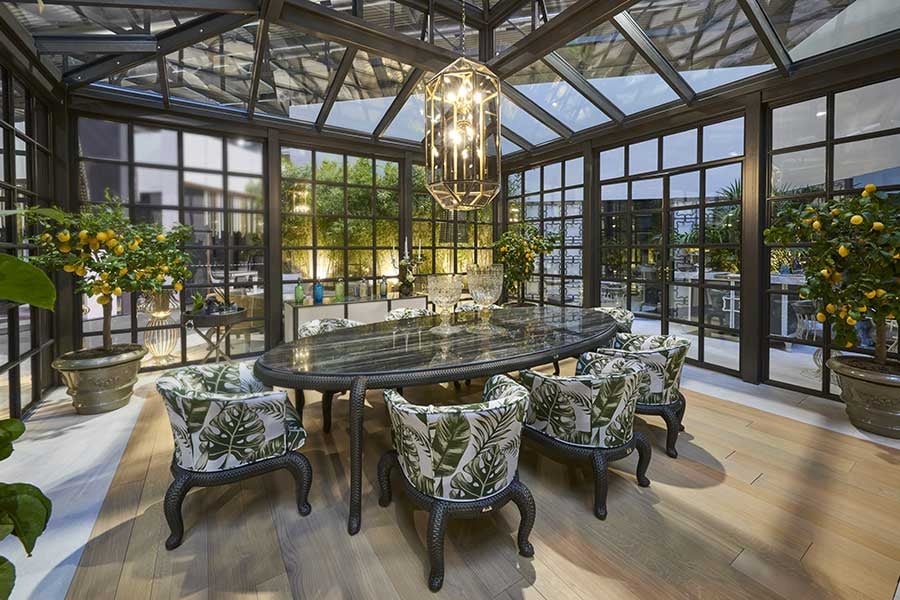 Outdoor furniture trends for 2020: curved lines
Rectangular sofas would have worked well in 2019. In 2020 more and more designers and homeowners choose the soft and romantic style of curved furniture, especially in tables and upholstered furniture (but not only).
The trend refers to "organic design", a style that has reappeared several times over the decades, in design as in architecture. It is directly inspired by nature, with its undulating, imperfect and unpredictable lines. These types of shapes, with a slightly retro flavor, are in contrast with geometric and functional trends, which are now predominant.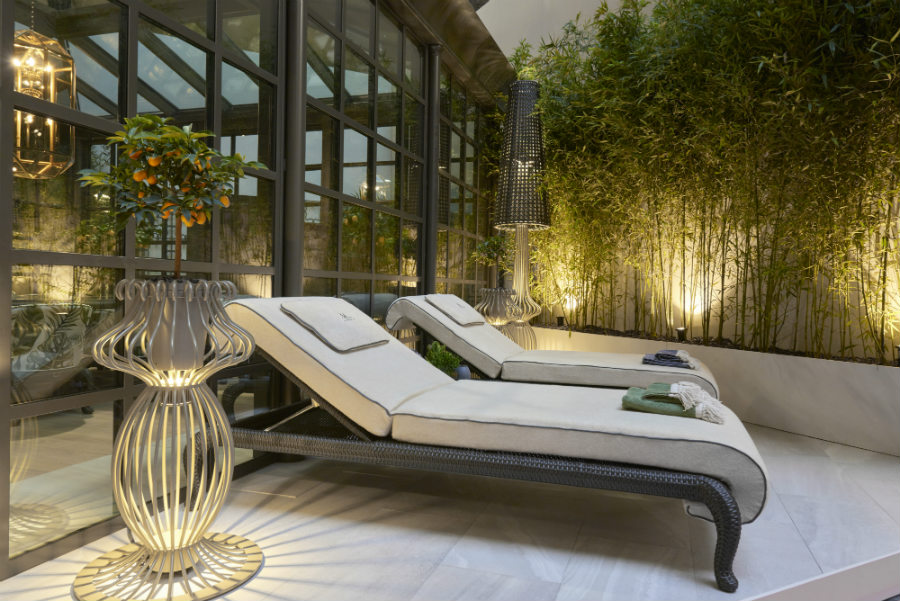 Outdoor furniture trends for 2020: the charm of the exotic
From a stylistic point of view, the exotic trend is very popular. Today, more than ever, garden furniture is characterized by colors and textures inspired by remote lands, and we plan to see many new products like this at the next Salone del Mobile 2020.
The desire to flee far away, at least in thought, passes through the choice of woven fibers (rattan, wicker, synthetic rattan, which we have already talked about) but also the choice of fabrics. Digital prints, for example, tend to reproduce the rigidity of the weaves in the softness of the cushions, in a very involving contrast.
Green areas also fit into this trend, with metropolitan terraces similar to jungles that are invaded by succulent or broad-leaved plants, in the continuous search for natural spaces and small personal oases. Elegant and compact vases, plant walls, and small winter gardens transform the balconies into mini tropical paradises.
From the point of view of colors, earth tones dominate, such as browns, pinks, coral, and terracotta, all shades that recall the effect of the sun in oriental landscapes. A very warm palette, therefore, which has the aim of infusing an almost "colonial" atmosphere on the terrace or in the garden.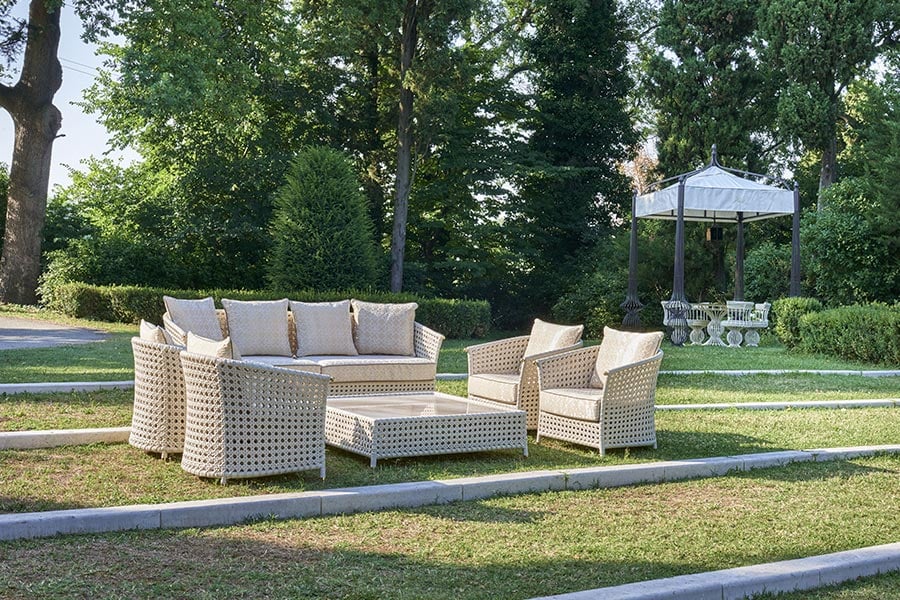 Outdoor furniture trends for 2020: cold colors are also present
According to Pantone, the color of the year 2020 is "Classic blue", and this trend is in fact already evident even in outdoor furniture. Blue is now treated as a neutral color, like gray or beige, and we find it almost everywhere when choosing cold colors.
Another cold color protagonist of 2020 will be green, in synergy with the trend linked to the creation of the most natural scenarios possible. We will find it paired with warmer shades, especially pastel, or with sharp matte black or white.
Finally, the latter remains the most timeless color. After 100 years of the Bauhaus, its use has become more functional: no longer all-encompassing, as in the years of the most intense minimalism but as a background to bring out accessories with brighter and more vibrant colors.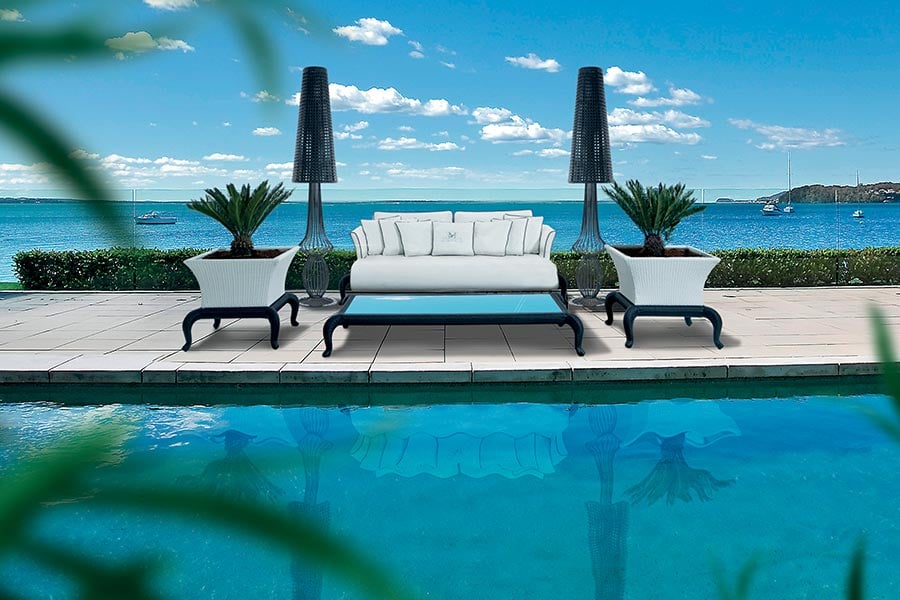 Outdoor furniture trends for 2020: the outdoor kitchen
If the external areas become real rooms, even the kitchen cannot remain inside the walls of the house. The trend we are talking about is a focal point of outdoor conviviality, which cannot neglect the issue of eating and preparing food in company.
A barbecue alone is no longer enough. Today, a one-level house must include a real outdoor kitchen, which includes appliances, furniture for storage, worktops and tools for cooking. Furniture for food consumption must also adapt: tables and chairs in the living room style are fine, but they must also be integrated with seating and surfaces suitable for eating comfortably.
A growing number of homeowners are choosing a softer solution, that of installing an outdoor bar on their patio. A bar is a very interesting addition, which allows you to organize large outdoor parties as well as quick snacks or quiet aperitifs.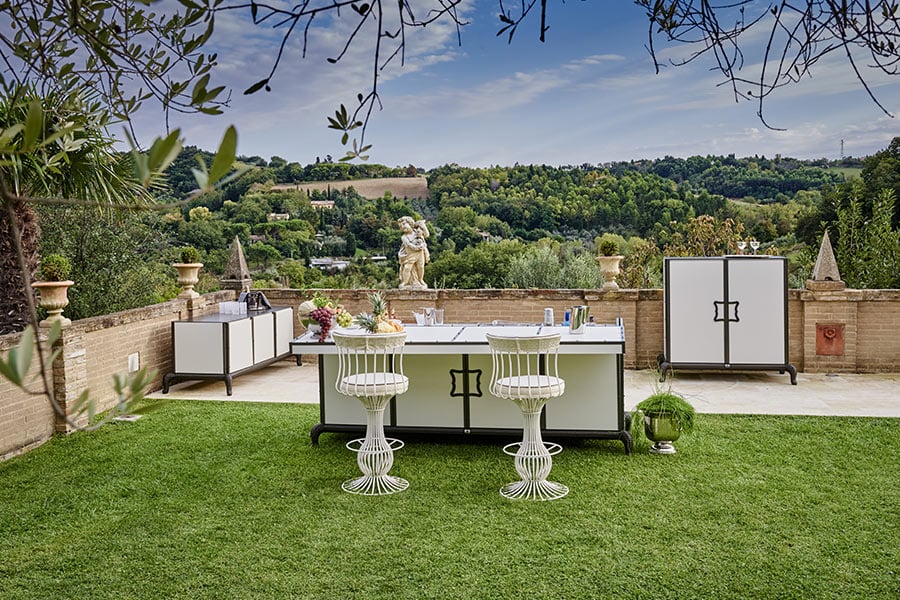 Outdoor furniture trends for 2020: conclusion
If we want to summarize the key concepts that characterize the trends just exposed, we can see that they boil down to 3 main categories:
Seeking more functionality
Attempt to get close to nature
Rediscovery of the style in the outdoor space
These three lines do not always push in the same direction, and it may happen that you have to choose one trend at the expense of the others. From this year on, we will see rather strong contrasts between the design currents, both inside and outside living spaces.
This feature can be an advantage for the most creative designers, because it allows you to mix together contrasting colors, materials, and designs. The trends listed, in fact, are only a guide: the key to high-level outdoor furniture is to explore your personal tastes, experiment and rely on prestigious brands, capable of guaranteeing high-quality products and services.
In DFN, we have already received all these inclinations and given our always very personal interpretation. Come and visit us during the Salone del Mobile 2020 in Milan in hall 1 stand H15L14, and you will be immersed in a sensory experience that will make you not only see but experience the novelty of the near future.