Since 1961, Milan Furniture Fair has been an international point of reference for those wanting to discover the most interesting design and furniture trends on the market. This year, outdoor furniture takes centre stage at Milan Furniture Fair. In fact, the interest in stylish, refined and practical outdoor living spaces is increasing exponentially year on year. The aim is to establish a more intense relationship with nature thanks to carefully-crafted furniture and accessories.
Living among nature: the most important outdoor furniture trend at Milan Furniture Fair
This year, the 2018 Milan Furniture Fair is offering a multi-sensory experience, focusing on the desire to have a deeper connection with our outdoor spaces. From 17 to 25 April, in front of the Palazzo Reale in Piazza Duomo, a 500m2 space will be divided into four sections, each with its own micro-climate.

Each section will offer design proposals and a climate that captures the essence of summer, autumn, winter and spring in an entirely environmentally-sustainable style. Four different climates and four different ways to experience open spaces in full harmony with urban and domestic greenery.

The "Living Nature. The Nature of Living" project, established and created by Carlo Ratti Associati, demonstrates just how important it is to appreciate outdoor spaces, gardens and urban greenery as essential to our wellbeing.

In addition to a clear focus on sustainability and designs that take into consideration climate change and the future of the world around us, it's clear that this design proposal, along with trends from recent years, demonstrates that outdoor furniture is a first-rate sector at Milan Furniture Fair.

Being able to enjoy outdoor spaces all year round thanks to suitable weather-resistant structures is a desire that is slowly turning into a "need. The beady eye of designers is helping them to create furniture that is suitable for outdoor use, while enhancing the beauty and sophistication of materials and solutions.
Outdoor furniture at Milan Furniture Fair: styles and trends

There are many trends in the world of furniture. "Naturally" we're talking about open spaces and therefore terraces, balconies, large usable green areas, winter gardens and furniture such as armchairs, sofas, chairs and tables. Let's try categorising these styles.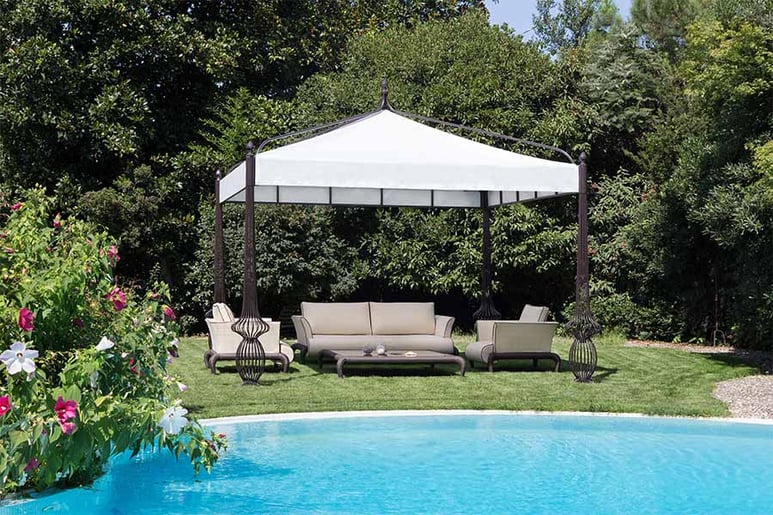 1. MINIMALIST MATERIAL
Material exploration comes in at first place in the stylistic development of outdoor furniture at Milan Furniture Fair in 2018. This is demonstrated by the design proposals of some of the most prestigious designers, in which iron, aluminium, wood, copper and brass play an essential role.

An investigation into the essence of materials presented in clean and minimal shapes – the use of geometry only serves to enhance the materials used to create furnishings.
2. ROMANTIC
A rising trend, in sharp contrast with minimalism, which follows in the footsteps of a stylistic phenomenon that has been embraced all over the world. The shabby chic trend – and more recently, the provençal-style housing trend on the Côte d'Azur – has influenced outdoor furniture at Milan Furniture Fair with characteristic pastel tones and soft and welcoming shapes.

It's primarily textiles that are the essence of this trend. Pleats, soft notes and muted colours go hand-in-hand with retro-style supporting structures to form the unmistakable romantic trend that is invading our gardens.

The "shabby chic" style that we see at Milan Furniture Fair is obviously of a very high-quality. Large companies are creating furniture in this style that is highly functional, following a substantial amount of project and product research.
3. NATURE D'ESSAY
Nature, always. Nature woven into garden furniture is the force majeure trend of this year. Rattan, wicker, rope – all elements that are expressed with incredible imagination and have been cleverly designed by the outdoor furniture exhibitors at this year's furniture fair.
Even textiles such as cushions, curtains and upholstery offer tactile textures that are reminiscent of cotton, linen and jute.

The market demand for "biophilia" is increasingly on the up. Nature is being desired, sought after and expressed in a thousand different ways. Outdoor furniture now connects the interior with the exterior.

It has become the precious glue that binds these two modern furniture worlds together, closing the gap between them. Stylistic explorations weave in and out of the house and into the garden with extreme ease.
4. HYBRID
It's precisely due to this desire to experience the "outdoors" with the same beauty, quality and practicality with which we approach the "indoors," that has allowed one of the most important outdoor design trends to come to life at Milan Furniture Fair in 2018. It's all about hybrid furniture. Elements with characteristics that make them useful for both the garden and the home, creating a continuum that is very popular with the public.

Of note are the furnishings woven from synthetic resin, creating clever shapes that are excellently designed for both indoor and outdoor spaces.
5. NOSTALGIC
When we talk about "nostalgia" we think of trends from the past that have left their mark on the contemporary stylistic heritage of today. The 70s, for example, which are making a comeback with a new lease of life.

Bursts of bright colours and lines that are clearly reminiscent of a decade that, perhaps more than any other, has had a huge impact on the design and style of one the most loved trends of modern times.