Spending time in the garden, surrounded by greenery and the comfort of a family environment, is a pleasure that anyone would enjoy. Preparing a dinner or an aperitif, surrounded by friends and facilitated by all the comforts that are usually found in the home, is an increasingly common desire for those who are buying a beautiful home.
The diffusion of outdoor kitchens is, in fact, a trend that is strongly taking hold, within a wider trend that also involves other living areas.
More and more often, homeowners try to emulate the living spaces that are usually found inside the home. In addition to kitchens, the most apparent phenomenon concerns outdoor living spaces.
Kitchens, however, remain the most interesting environments to transfer or recreate in open spaces, especially when it comes to a luxury kitchen. Thanks to its growing popularity, new styles and designs are continuously developed, which in turn fuel the market all over the world.
So where does all this interest in high-level outdoor kitchens come from? What drives more and more owners to focus on preparing meals in the garden? The pleasure of cooking and dining outdoors is just one of the advantages.
In this article, we will try to give a complete answer, illustrating all the reasons why investing in an exclusive outdoor kitchen is a good idea.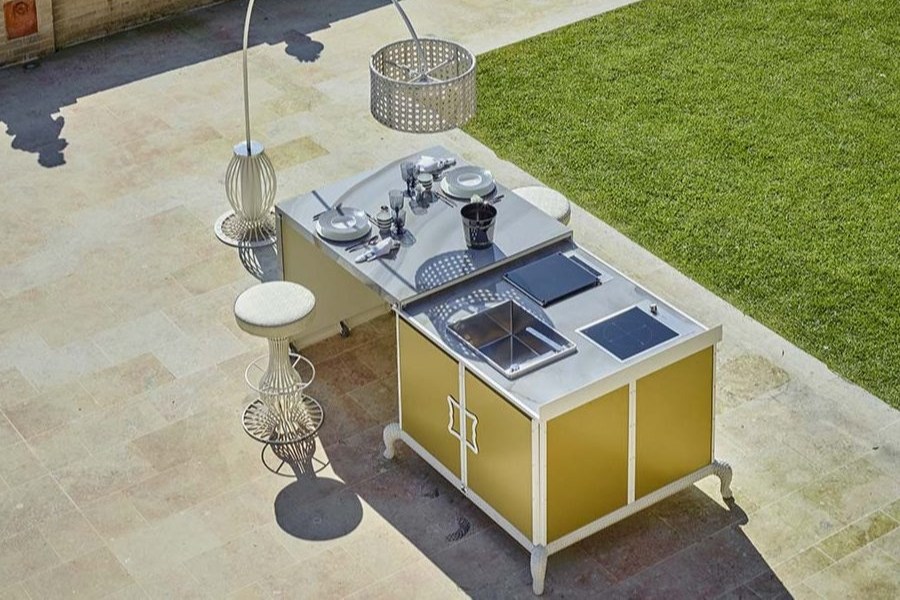 An exclusive outdoor kitchen fuels conviviality
As we have already mentioned, the most obvious advantage of an outdoor kitchen is the possibility of enjoying good times in your own garden. The best occasions are certainly those in which you entertain guests.
When cooking in an indoor environment, you usually have to make a choice: either people are allowed to stay in the kitchen, with the risk of crowding it and making the preparation phase impractical, or the cook is forced to miss out on socialising and taking part in the fun.
With an exclusive outdoor kitchen, the problem disappears: the greater availability of space, in fact, allows you to cook the food without having to send away guests.
Choosing a refined style and using discretion in the design phase will make your outdoor kitchen an environment particularly suitable for hosting guests, and having all the tools and ingredients at hand ensures maximum efficiency in preparing meals.
It is also easier to involve friends and family in making recipes. Cooking together, surrounded by nature, is a very fun situation of collaboration and sharing, which will make food memorable once you sit down to eat.

An exclusive outdoor kitchen keeps odours out of the house
A consequence of cooking outdoors concerns odours. Some foods smell delicious during cooking, and others are less pleasant.
When cooking indoors, the strongest smells often remain in the room for days. Think of fish or fried foods: no hood can eliminate its persistence, especially in the warm months.
When the same dishes are prepared in an exclusive outdoor kitchen, much of the problem is solved. Smells stay outside and disperse quickly, while the air in the house remains fresh and clean. Furthermore, the garden's natural scents contribute to making the atmosphere more pleasant and easily cover the few odours remaining after cooking.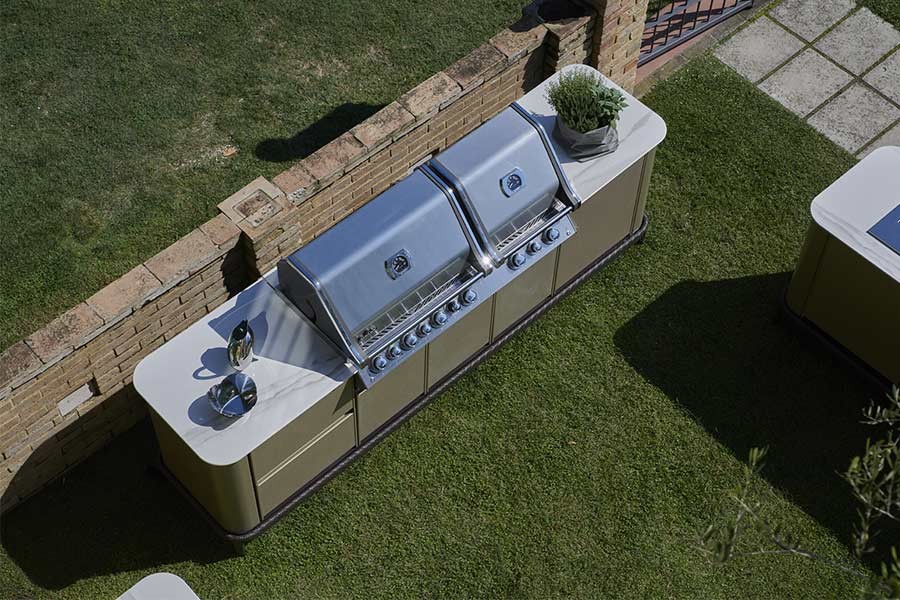 An exclusive outdoor kitchen increases the value of the property
The most prestigious outdoor kitchens, such as those proposed by DFN, are made of very resistant and durable materials.
Designed to withstand any climate and any weather condition, these kitchens can last for decades. Therefore, it is a purchase that can be enjoyed for very long periods.
Moreover, exclusive outdoor kitchens are very fashionable today, especially in the most prestigious houses, equipped with spacious and well-designed gardens. Concerning financial return, inserting an outdoor kitchen is really a good investment for owners and builders.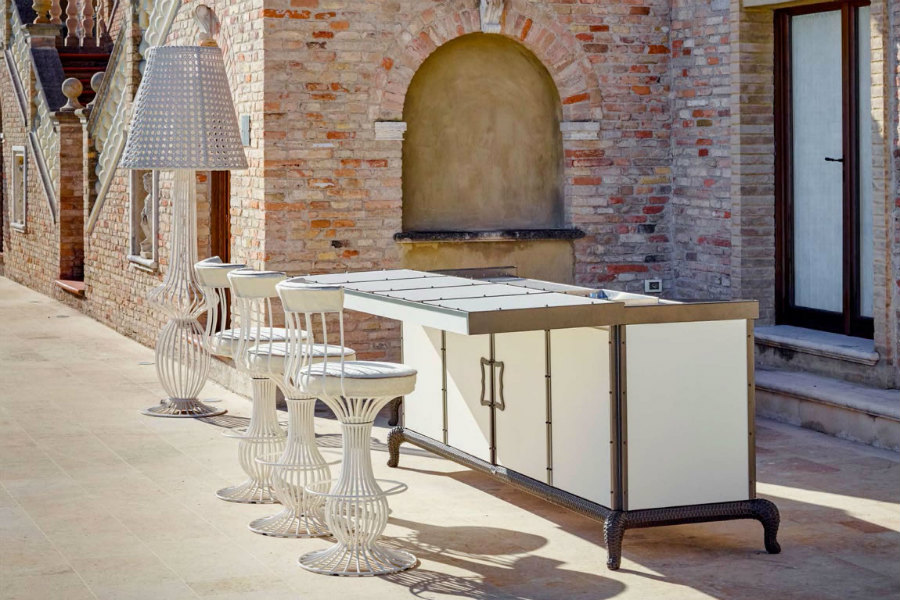 An exclusive outdoor kitchen increases the living area
Need more space? No new masonry work is needed, just make the most of the porches, verandas and the garden itself. Open or semi-open spaces can be equipped as if they were real extensions of the house.
According to research commissioned by Best American Living, 90% of American owners consider that the extension of space is a feature of great interest in a home.
The outdoor kitchen is a very effective example. If it is designed in the best way possible, with the right appliances and accessories, it can become an extremely functional area. An extra room, not only for special events but whenever you want to enjoy your the outdoors.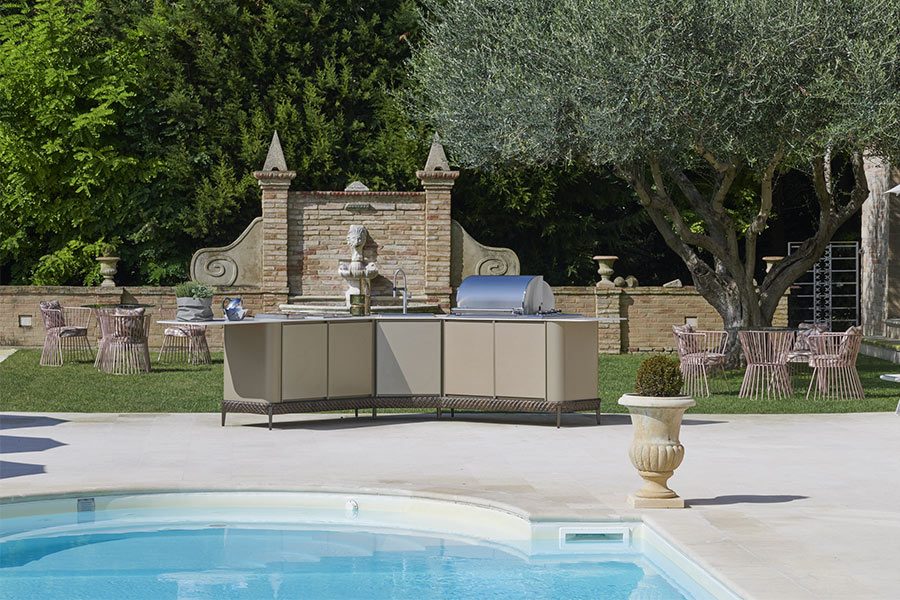 An exclusive outdoor kitchen is an experience
According to the already mentioned Best America Living survey, people see outdoor and indoor kitchens very differently.
While these environments are considered above all functional spaces for various operations and housework, outdoor kitchens stand out as experiences, enjoyable and sociable places, adapted to experience sensations.
Therefore, an exclusive outdoor kitchen should be designed taking into account the expectations of those who will use it, as an environment that satisfies all their desires, rather than as a simple equipped barbecue.
Outdoor kitchens have become a desire of luxury home owners due to their entertainment value, high return on investment and the beauty they add to their properties.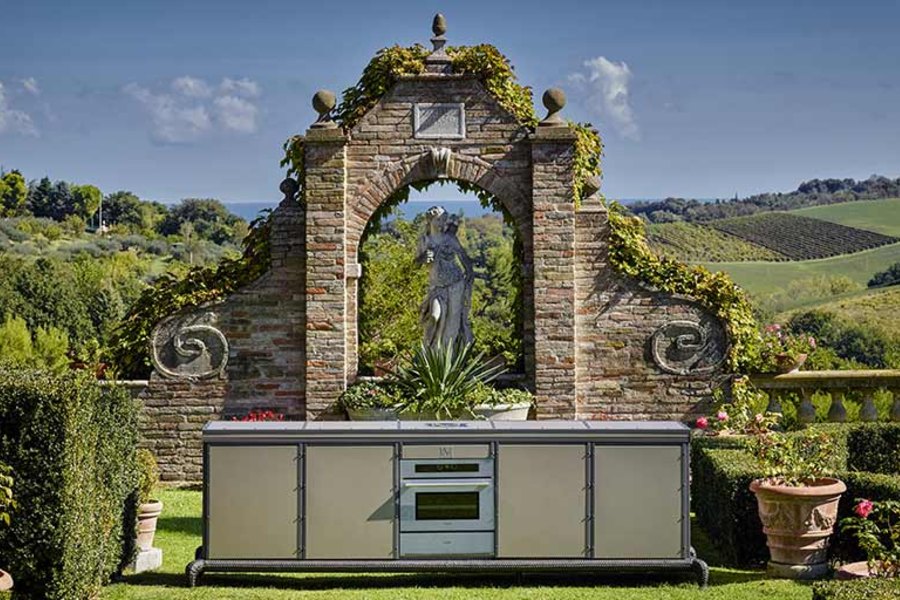 An exclusive outdoor kitchen: a pleasure that cannot be renounced
Having an outdoor kitchen is really great. Those who have never had one may think that it is a whim, something superfluous. But those who try it at least once can no longer do without it.
And if the right care is taken in its production, choosing an excellent quality brand like Samuele Mazza, an exclusive outdoor kitchen can become a representative environment.
At the beginning of this post, we wondered why exclusive outdoor kitchens are so fashionable. Now we have the answer: because they are fantastic.