Creating an elegant luxury outdoor space implies following specific design steps, but, above all, it means choosing the right outdoor furniture brand.
The best brands offer durable and high-performance furnishings as well as great aesthetic potential.
These elements of furniture are made with resistant materials and considerable visual appeal to ensure your client with a scenario that is always beautiful to look at and lasts for a long time.
In this sense, DFN is the ideal brand for your project.
In this article, we will illustrate the technical-aesthetic peculiarities of its outdoor furniture lines, but first, we will discover the fundamental steps for the design of an outdoor environment.
5 tips for designing an elegant outdoor space
Below, we have prepared a small guide containing the main steps to be performed when designing your outdoor space:


We will now go deeper into each step.


1. Evaluate the location that will host the furniture composition
In any outdoor design project, the first fundamental step is the evaluation of the location, i.e., the place where the furnishings will be set up according to your client's directives. The most exclusive outdoor furniture compositions are usually placed in small courtyards or patios adjacent to the home, sheltered under the shade of a bioclimatic pergola or even in an elegant conservatory.
Each setting corresponds to a series of technical and aesthetic needs to be taken into consideration, which is why this first step is crucial for the success of your project.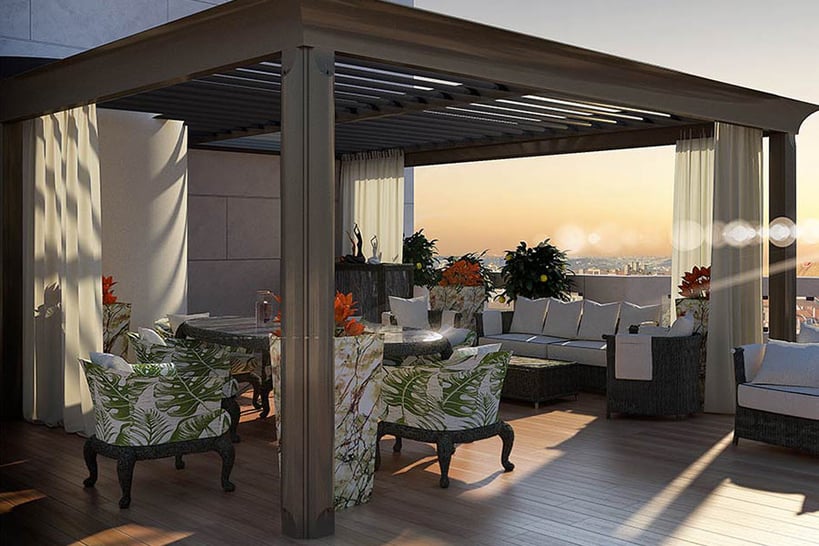 2. Create a personalized mood board following the client's preferences
Create a mood board customized in detail, "made to measure", for your client and their stylistic-functional needs.
A mood board is truly a collage of ideas, a conceptual map of inspirational images and drawings (depicting colors, finishes, details, furniture, etc.) in a visual format, that will help you to give shape to the furnishing concept for the location in question.
Already from here, the client will begin to have a clear idea about which style of furniture they will want for their outdoor space and, as a result, they will also know which furnishing elements to select and match.


3. Plan the furnishing layout
Planning the furnishing layout does not simply mean positioning each piece of furniture at will. First of all, it means guaranteeing maximum comfort, freedom of movement, and ensuring that a space is set up with taste and in a balanced way.
To correctly set up the arrangement of each piece of furniture, we suggest that you first consider the presence of other external installations, such as:


Swimming pool
Outdoor lounges
Outdoor kitchens (for which it is essential to take into consideration the layout)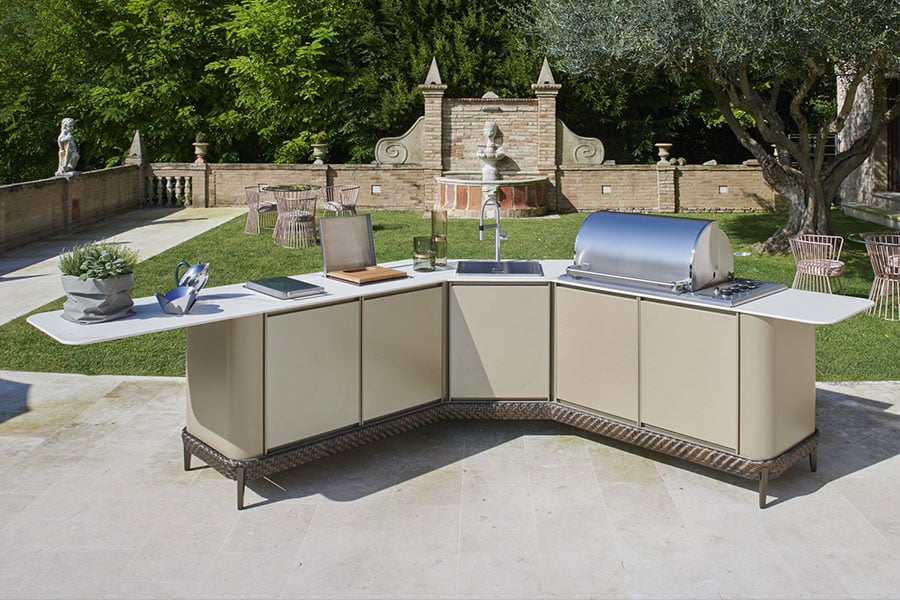 4. Take care of decorative lighting
The lighting determines the mood and degree of functionality of the environment, enhancing the furnishing atmosphere and, at the same time, allowing you to move in total comfort while enjoying excellent visibility.
That explains why it is so important to take care of the decorative lighting design in detail.
When designing an elegant outdoor space, opt for modern and glamorous designer lamps, in total aesthetic harmony with the furnishing concept designed by the client.
In this section, we have shown you the main steps to follow for luxury outdoor designs. To learn more and know the other steps, click here.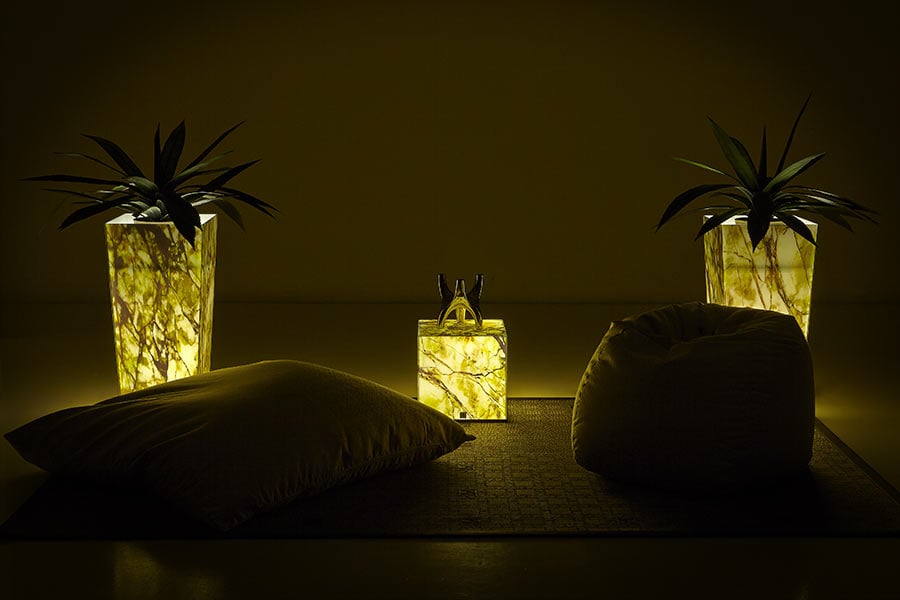 5. Install an outdoor stereo system
In any context, music has the power to make the environment more welcoming and vibrant.
That's why, to make the atmosphere more stimulating, you should carefully plan the installation of an outdoor stereo system. DFN and its technical partners are also able to deal with this aspect.
An additional note of entertainment that your client and their guests will love.


Designing the perfect outdoor space with DFN
The DFN brand offers a new way of living outdoors by transforming outdoor spaces into elegant and functional locations with attention to every detail.
To satisfy the taste and preferences of the most demanding clients, DFN offers various collections characterized by different styles to adapt to the various furnishing needs required by the context and the client.
Three lines of furniture designed in three different styles, for different occasions, all rigorously handmade:


Samuele Mazza Outdoor Collection
Sublime Collection
Outdoor Collection
Natural Rattan


Let's discover the details that characterize these splendid collections.


Samuele Mazza Outdoor Collection
The Samuele Mazza Outdoor Collection is one of the brands licensed by DFN that offers outdoor kitchens and luxury outdoor furniture proposals, made with high-quality materials that are resistant to atmospheric agents.
The collection is the result of the experience gained by designer Samuele Mazza, an internationally renowned designer, and of his many successes in the luxury indoor furniture sector.
The entire collection is characterized by refined furnishings that offer a glamorous, but also classic and high-performance style, ensuring the creation of a unique external scenario.
The designer blends tradition and innovation through his furnishings: he creates and experiments using high-quality materials, such as: rattan, synthetic resin, parchment, iron, etc.
The iron furnishings, as well as those made of synthetic resin or natural materials, are the result of "handmade" products by skilled craftsmen, capable of creating refined shapes and always daring designs, which when combined, know how to give outdoor settings a new and chic look.
What emerges from this synergy between new styles and classic aesthetics is a completely new furnishing concept that gives voice to a different and even more exclusive way of experiencing outdoor spaces.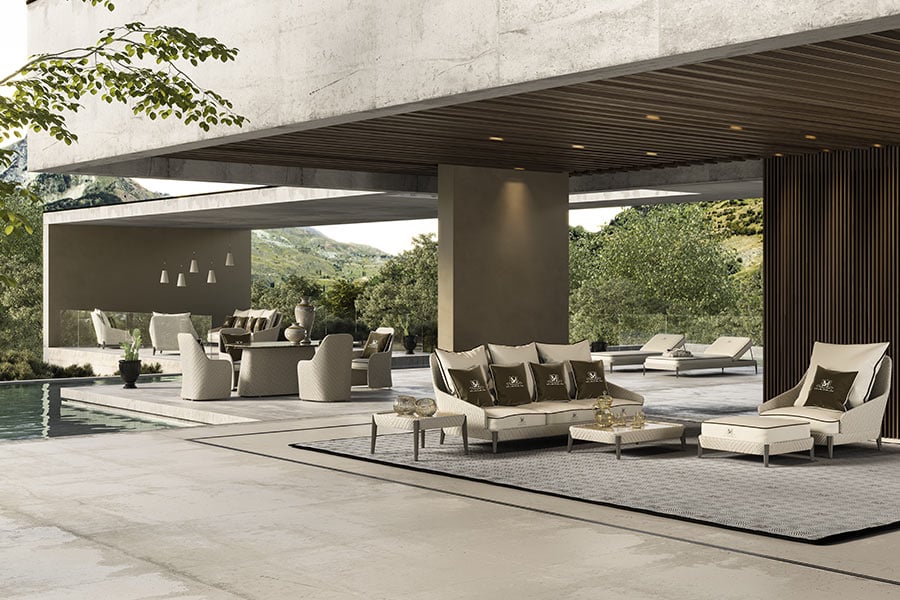 Sublime Collection
Sublime Collection, designed by Bebo&Angel, is a collection created with the aim of painting idyllic atmospheres made of precious details and refined nuances, which make every moment an exclusive experience.
The furnishings from this collection are perfect for setting up a real oasis of relaxation to get lost and forget the time.
Sublime Collection presents several furnishing elements, including:


Sunrise
Elements with rounded profiles and sinuous shapes, characterized by a slender and thin structure made with flat-section iron with a minimal appearance in contrast to the generous-looking cushions and sophisticated fabrics.
Each piece of the collection stands out for the details that enhance its presence, such as, for example, the precious paints used for steel: gold, bronze, champagne, precious sand with metallescent and pearlescent effects.


Twilight
Twilight stands out for its structure entirely made of hand-woven synthetic resin to create geometric patterns in one and two-color variants.
The result is a play on colors and textures with a full and luxurious consistency, which completely dress the furnishings, stimulating sight and touch in equal measure.
The rounded lines create sinuous shapes that fit into the rooms naturally.
Both collections have been designed to be mixed together and compose furnishing scenarios with a rich look and attention to detail.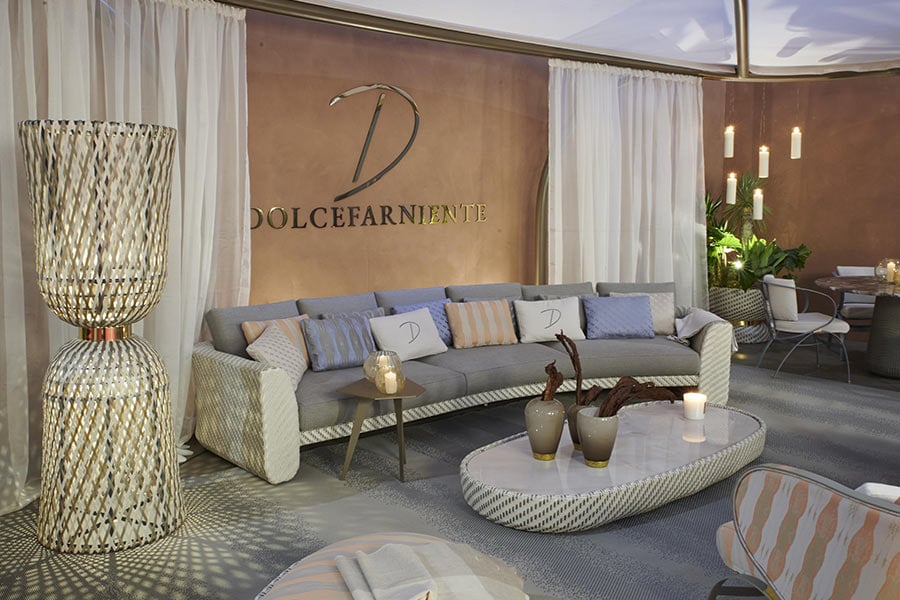 Outdoor Collection
Outdoor Collection is the collection designed to enrich outdoor spaces and make them prestigious.
Each element of this line is handmade with quality materials, carefully selected to ensure maximum aesthetic results, durability, resistance, and comfort and resist atmospheric agents, in the constant effort to create products with elegant and refined shapes and at the same time versatile and functional.
Furnishing proposals with a strong functional and qualitative character that are also distinguished by value and indisputable luxury.
What makes each complement unmistakable is the Viro-certified synthetic resin tape expertly woven by the hands of our craftsmen: an ideal material for outdoor furniture, capable of giving shape to different and beautiful silhouettes.
All the elements in the collection interact with each other and can be combined so that you can create your own personal outdoor setting.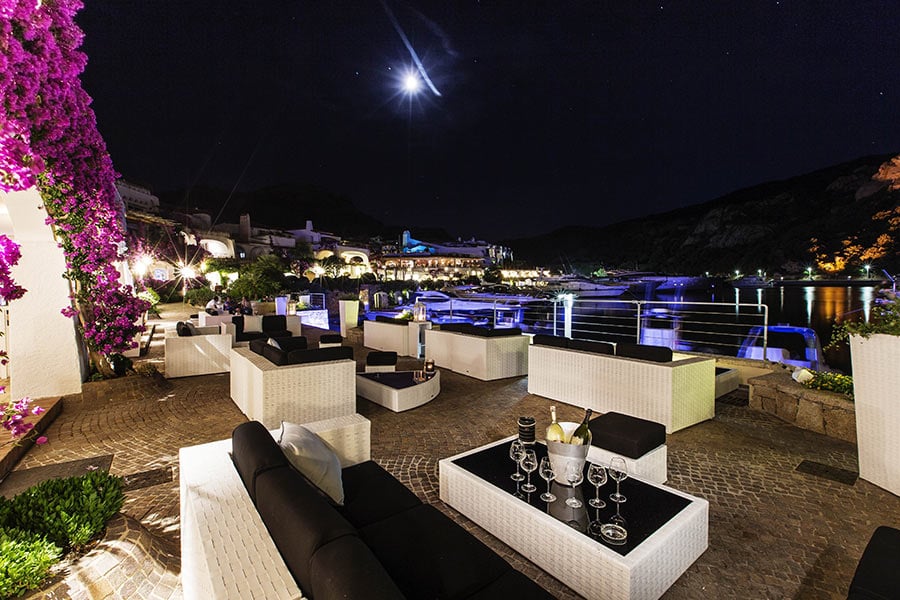 Natural Rattan
A collection that enhances the art of weaving and "handmade" through the use of natural materials left in the colors with which they are found in nature. Natural Rattan does not have a simple finish, but it is the material itself, that proposed in its natural version, has a simple charm but also a great stage presence.
Natural Rattan is a line of furniture entirely made of rattan, wicker, and parchment. These extremely versatile materials are capable of giving life to varied designs and elaborate textures, as well as furnishing atmospheres with a chic and refined flavor.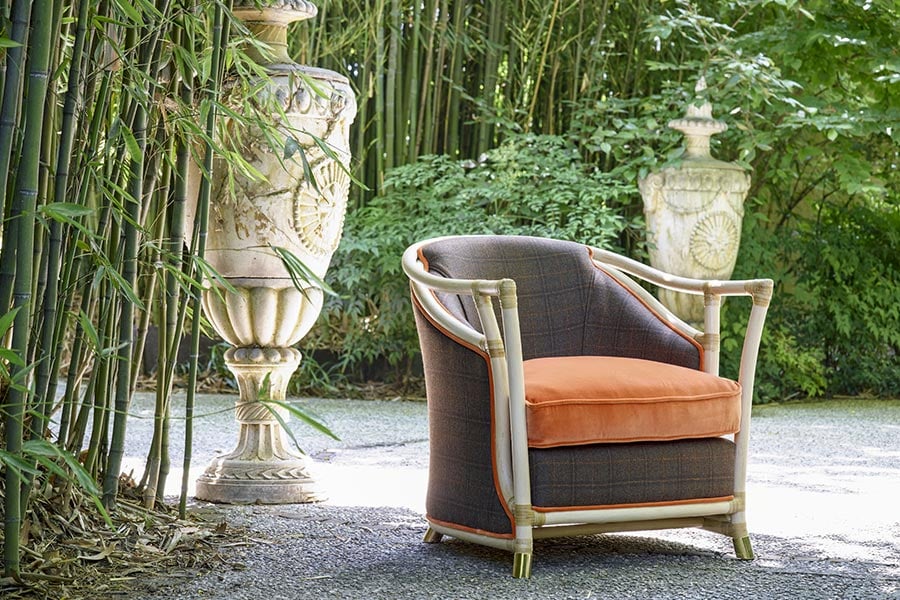 Designing an elegant outdoor space with DFN means choosing style and performance
The DFN collections combine design and performance in a balanced combination.
This is the formula necessary to create an elegant outdoor space, enjoying elements of great aesthetic appeal that are highly resistant.
Listen to the client's requests and let yourself be guided by your intuition: choose the furnishings of the collection that you consider most suitable for the project and set up the location you are dealing with.
You will get an impeccable final result!