Having an outdoor space is a significant success factor for a restaurant . Many clients choose to spend the evening in one place rather than another based on the availability of outdoor spaces.
For restaurateurs, it is also an opportunity to extend its capacity, increasing the usable area and tables for guests, with consequent profit growth. According to recent studies, having a well-designed outdoor area can increase revenue by up to 30%.
Even if there are no covered areas outside, a well-equipped patio can serve as an excellent relaxation area, where guests can spend time with friends between courses or after a meal.
However, it is not enough to set out a few chairs and some tables. What clients are looking for are pleasant, emotional, and real experiences to remember. After all, we are not simply talking about being outdoors on a street sidewalk but in an elegant area that is at the same level as its location.
For this reason, when designing a restaurant patio, it is necessary to do it with taste and a strategic perspective. In this article, we intend to investigate the main design factors that can determine the success of a patio. Following these tips, it will be easier to renovate your outdoor spaces and turn them into something magical.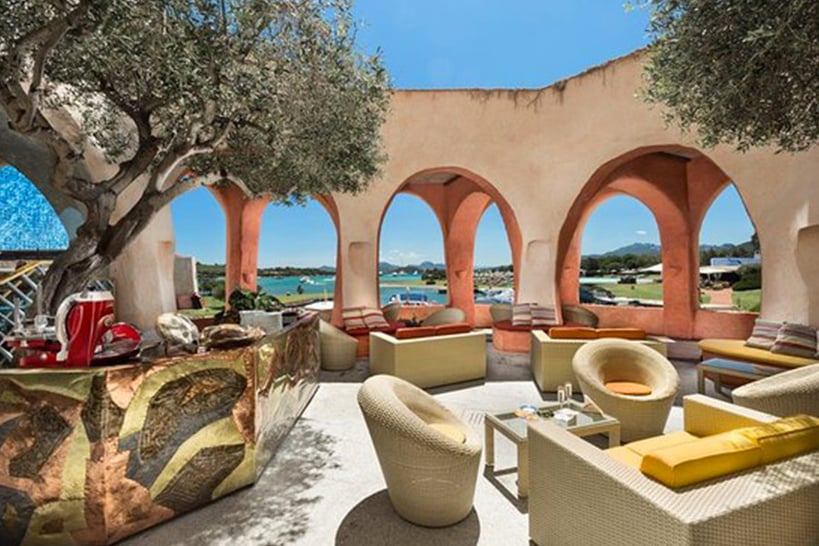 Designing the patio of a restaurant: the layout
The preparation of a restaurant's outdoor area starts from the study of its potential, especially in terms of size and position. Any space, however small, can best be enhanced through a correct design. In the case of a reduced environment, for example, it can be transformed into an exclusive area that is intimate and welcoming.
If, on the other hand, we have a very large space, we need to avoid making it look too empty. Therefore, it should be well structured, perhaps introducing plants and other decorative elements to interrupt the monotony of the numerous tables, or leaving the space open to see the beautiful view (if present).
Everything must be studied before buying the furniture, taking into account the various uses that the outdoor area is used for, apart from eating and relaxing.
For example, will music be played? Will live musicians be invited? In these cases, it is necessary to provide sufficient space for speakers, the instruments, or the DJ set, being careful not to bother the guests at the nearest tables.
Remaining on the subject of comfort, the area destined for those eating outside should be positioned far enough from the entrance and exit areas or areas that create confusion, to allow guests to dine in complete tranquility.
An idea could be to use a part of the patio to create a seating area with sofas and coffee tables, perhaps even setting up a corner bar for after dinner. How do we expect, then, to manage the possible presence of children?
It is not always easy to provide for and strategically manage all these decisions or understand which opportunities should be exploited to make your clients' evenings more enjoyable. Therefore, you should ask for advice from experienced professionals who know how to interpret the style and needs of the venue.
DFN provides its consultants, who work in synergy with the designer and the client, to create turnkey outdoor projects of absolute luxury and prestige. DFN experts work alongside clients both from an artistic and a technical/functional point of view, from the creative development of a concept to the production of customized furniture.
Designing a restaurant patio: defend yourself against the elements
Any outdoor project has to deal with the vagaries of the climate. Whether in summer or winter, you need to be equipped to protect people from heat, cold, wind, and rain.
The use of covers, such as umbrellas, bioclimatic pergolas, or gazebos, is the most practical solution to defend yourself from the sun in hot seasons. If the temperature becomes too high, it is possible to rely on outdoor fans or humidifiers, which help to keep the air fresh.
In the winter, the patio can be equipped with outdoor stoves, infrared heaters, or patio heaters, solutions that allow you to extend the use of outdoor areas over time. When deciding on one, you should choose mobile instruments that can be moved to the areas that need it the most or be placed where necessary.
If the client wants an outdoor area that has the comforts of a closed space that allows him to welcome clients even when the climate suddenly worsens, you can opt for a fixed structure with sliding glass doors. These doors allow you to protect the entire defined area correctly. In this case, heat and cold can be managed with standard heating and cooling systems.
However, you should always be prepared for any eventuality. It is tough to anticipate the weather accurately, and we must be ready to intervene in the event of thunderstorms or sudden changes in temperature.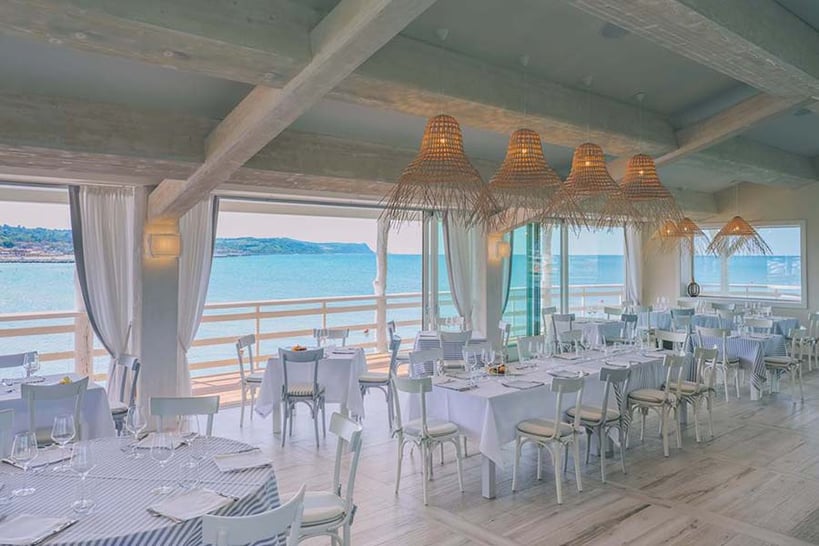 Designing a restaurant patio: lighting
Lighting is a complex issue, which requires careful planning by those involved in designing a patio for a restaurant. The factors to be taken into account are numerous: how does the light change at various times of the day? And in different periods of the year? How can I make the most of natural light?
The right lighting is a fundamental condition to eat comfortably, allow efficient service, and create an atmosphere.
In addition to a practical function, linked to making the site usable and safe for end clients and staff, lighting also has a very strong aesthetic importance. Through light, specific atmospheres and sensations are created that can characterize the entire environment in a significant way and cannot be left to chance.
For example, in some cases, the outdoor area must be romantic and intimate; therefore, it requires warmer and softer lighting, while in other cases, the conviviality of larger groups of people and a party atmosphere is favored. If there are points of interest to highlight, such as particularly suggestive areas of the garden, statues or fountains, they should also be illuminated in the best way possible.
Finally, be careful not to overdo the light intensity. It is important to avoid any risk of blinding guests with direct light beams. Furthermore, too intense light would make it impossible to admire the beauty of a starry night.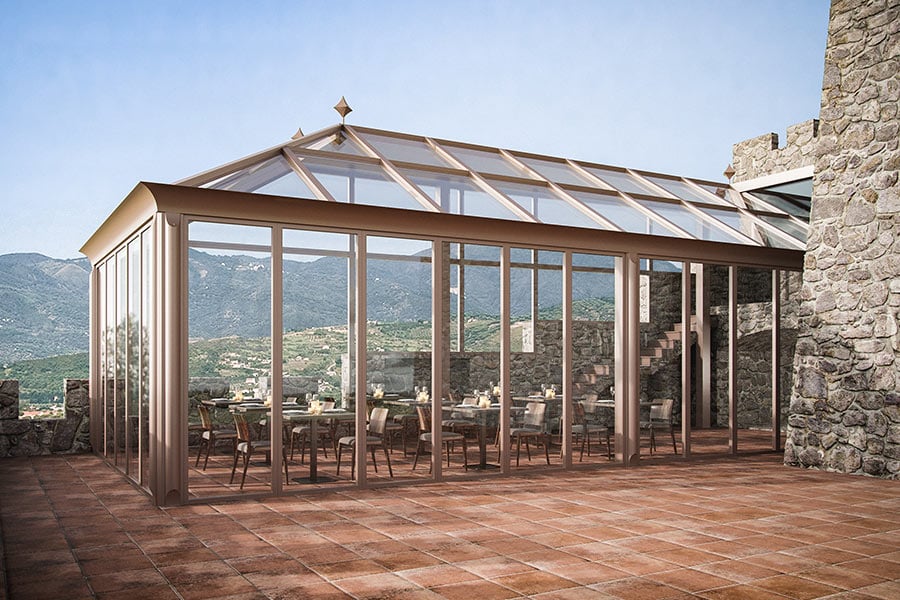 Designing the patio of a restaurant: choosing furniture
The furniture is the most important part of the outdoor area of a restaurant; in fact, it is what defines its nature, style, and main function. For this reason, it must be carefully selected, taking into account both the aesthetic aspects and the more practical aspects related to use.
From this last point of view, the fundamental characteristic is the resistance to any climatic condition and wear over time. This is a very important aspect, even more than in private open spaces. A public environment, in fact, like that of a restaurant, is subjected to many more stresses every day.
Therefore, specific materials must be chosen carefully, so they maintain their beauty and last over time. Among the finishes, we suggest synthetic rattan, treated steel, and ceramic marble, all solutions that guarantee maximum strength. Among thetextiles, you should opt for those with a high Martindale value, which determines a greater resistance to abrasion.
The furnishings, then, must measure up to the rest of the restaurant both in comfort and elegance. From the design point of view, when designing a restaurant patio, utmost attention must be paid to style, which must be in line with that of the rest of the location.
Through the furnishings, in fact, not only the taste of those who have set up the space is communicated but also the activity's brand, with all its values and distinctive characteristics. The shapes and colors, therefore, must fully agree; it may be a good idea to put the brand on textiles, carpets and/or cushions.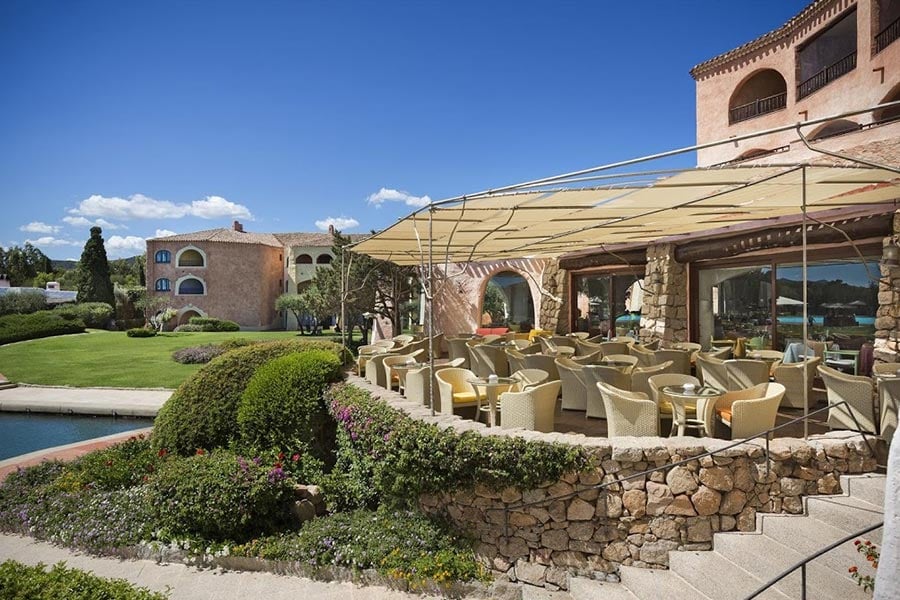 Designing a restaurant patio: more details
Finally, to create an exclusive and captivating atmosphere, the environment must be completed with refined details: planters, lamps, candles, centerpieces, and refined tablecloths , as well as a well-kept garden, will make the patio unique and precious.
We would also like to suggest some other considerations, final touches to make the guests' experience perfect:
An outdoor kitchen
An outdoor bar
The outdoor kitchen
If there is enough space, setting up an outdoor kitchen can create a fun and interactive atmosphere. The chef at work in front of the guests guarantees transparency in the treatment of food, reinforcing the trust of end clients. Seeing the preparation of dishes can stimulate the desire to taste new dishes and offers the most curious guests a real cooking show.
The outdoor bar
What is more inviting than a cocktail prepared and served in the garden? By integrating a bar into the outdoor space, restaurant guests will be able to enjoy the patio even before sitting down at the table, sipping a good aperitif, or they will have the opportunity to prolong the evening after dinner, chatting with a digestive or a drink in hand.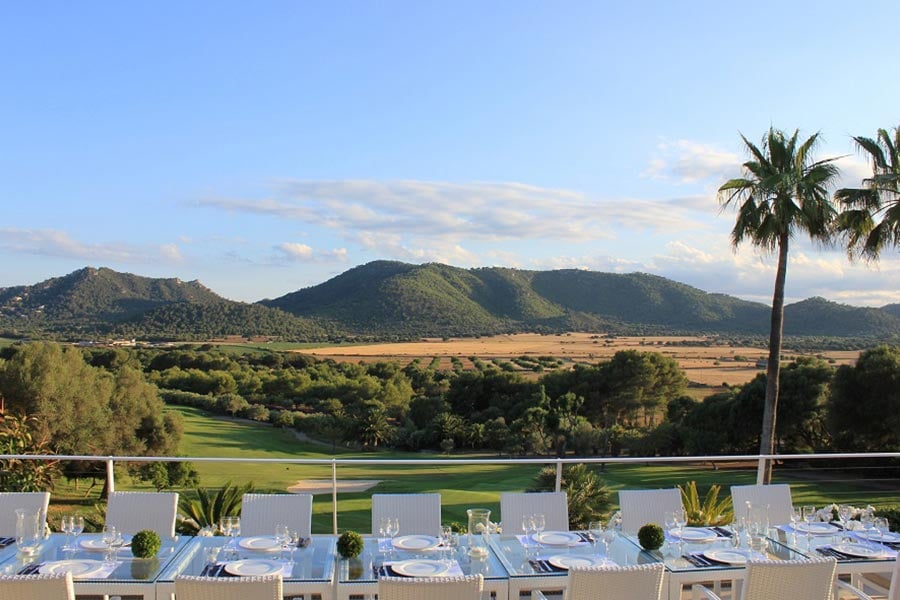 A final tip for designing a restaurant patio
We have seen how the aspects that should be considered in the design phase are numerous and varied. Often, when designing the patio of a high-end restaurant, it is necessary to rely on the advice of experienced professionals who can advise you on the best way to manage all this complexity.
The success of the project, however, is also linked to issues that go beyond the work of those who think about space. The practical experience of those who know the needs of a restaurant well and the creative ability to produce exciting scenarios must be completed with an impeccable level of service by those who provide furnishing accessories.
Not all furniture manufacturers are able to guarantee a perfect installation, for example. Thanks to the use of top-level workers, DFN ensures that, once the furniture is assembled, everything will be perfect from the functional point of view and without defects from the aesthetic and style point of view.
A post-sales service is also essential. In case of problems, the restaurant activity cannot stop, so the supplier must always guarantee rapid and competent assistance. Features that make DFN the best possible partner in outdoor design for public spaces.