Steel became one of the protagonists of the decorative arts during the second industrial revolution. In fact, the artists of the second half of the nineteenth century were delighted to realise leaves, stars, animals and fantasy decorations with this material.
Shortly after that, they began to appreciate steel for its many different uses, combining it with large sheets of glass that, in architecture, give life to wonderful building facades and buildings of great elegance and majesty. The architectural production of iron spread throughout Europe between the end of the nineteenth century and the first half of the twentieth century. This architectural technology has been significantly diffused in France and England and has also been diffused in Italy.
In those years, conservatories became popular, resulting in greenhouses created to house tropical plants with an extremely decorative construction and enchanting glass domes that we still find today in important gardens, reflecting the strength and resistance of materials with which they were made.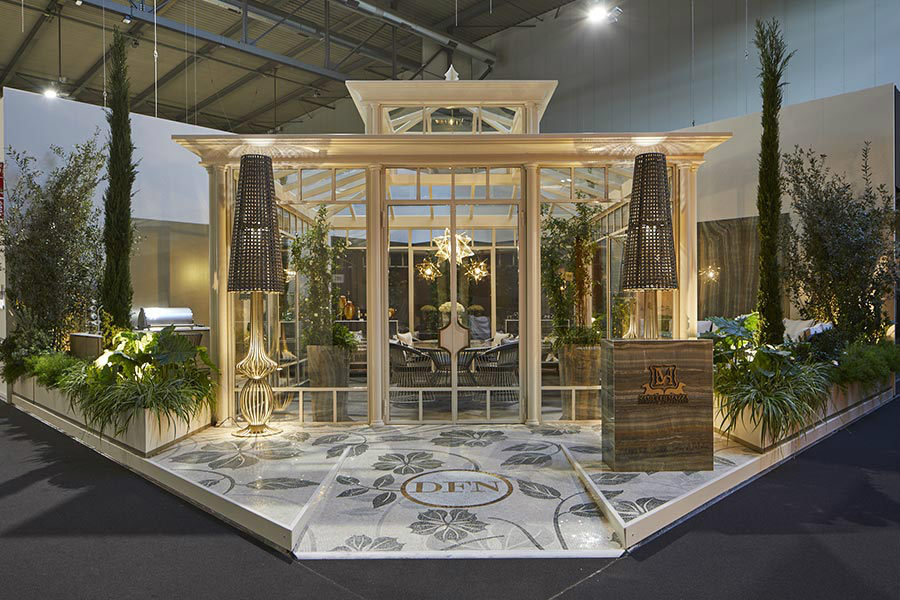 The production of steel and glass has improved over time, providing the foundation for the evolution of the winter garden design in increasingly modern and fascinating structures, to the point of changing their intended use. From an aesthetic point of view, thanks to new and increasingly particular metal bearing structures, the architecture of greenhouses, between the nineteenth and twentieth centuries, was characterised by a vast repertoire of shapes and decorations, influenced by the neoclassical, neo-gothic and Moorish style. The success of greenhouses, the desire to be able to enjoy them in every season and the pleasure of contact with the luxuriant world of green brought us to the creation of winter garden conservatories in a short time. These buildings thus ended up becoming an integral part or an extension of the house.
In fact, it was precisely the possibility of being able to enjoy the outdoor space despite unfavourable weather conditions affecting the interest of the elite of the time.
Nowadays, conservatories aren't made only in steel and glass but also in other materials such as wood and aluminium. However, the metal winter gardens have already highlighted their strengths: solidity, resistance to fire and the overall lightness of the structures and its columns.
In fact, steel has many qualities that meet the requirements of the construction of a winter garden.
There is no doubt about the superiority of conservatories in steel and glass compared to other materials.
Here's why.
The advantages of steel conservatories
The metal inside the structure of a winter garden provides strength and stability.
All the steel elements undergo a complex and elaborate cutting, welding and assembly process before receiving a specific powder-coating preparation treatment to prevent corrosion and for a long-lasting effect.
But what are the advantages of using steel for the realisation of conservatories?
As mentioned at the beginning of the article, steel winter gardens are greatly appreciated for their solidity. In fact, steel is a robust but easy metal to work with, making it ideal for the construction of conservatories, where strength and robustness are important factors.
For example, a conservatory in steel and glass would be ideal for hosting a large living area with an adjacent dining room as it would be able to provide the structural support needed for large spaces.
Steel conservatories are more resistant and therefore long-lasting. Despite exposure to weathering, metal is able to withstand the elements.
Since metal frame constructions are very resistant and durable, maintenance or repair problems are minimal.
Setting up a structure requires the preparation of the foundation and much longer installations times than the assembly of an iron and glass structure. For a steel conservatory, if the dimensions allow it, it is sufficient to install metal plinths as a base for the construction without making a foundation, leaving the ground unaltered. Furthermore, the entire structure, fixed with bolts, can be assembled and disassembled to be positioned elsewhere.
Steel winter gardens are also quite versatile as it is a malleable material, i.e., it can be folded and take on different shapes. Thanks to these features it is possible to create conservatories in any style, and that perfectly match any structure, regardless of the design or architecture.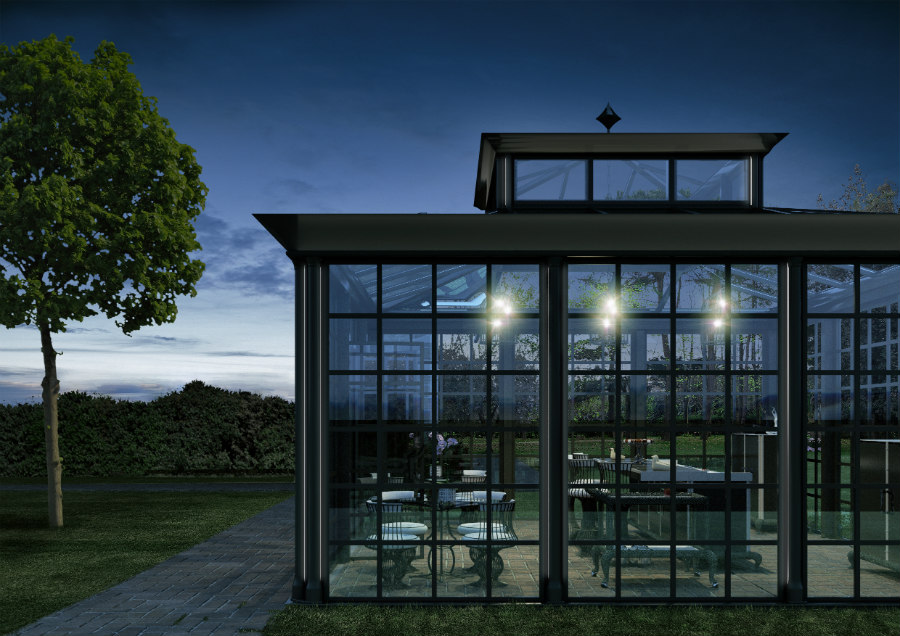 The advantages of glass conservatories
Glass connects the inside and outside. The pleasure of being in a protected environment with the ability to look out and see all the colours of the seasons is one of the winter garden's greatest qualities.
The glass used in the past was a thick greenish slab, which soon became flat and transparent, in order to let the light filter through completely. Initially, the space between one glass and another was sealed with thin sheets of lead, then with unique silicones to prevent the infiltration of water and dust. Today glass technology has reached such levels that it is possible to have large continuous glass, as well as double-pane glass, low emissivity, selective, special and more.
Therefore, regardless of the season and weather conditions, it is possible to enjoy your conservatory, a peaceful and relaxing environment.
Here are the advantages of using glass to realise a conservatory.
1. Visually expand the space
Glass helps create the illusion of more space in the winter garden, creating a fresh and wider atmosphere.
2. It allows the entry of light
The advantage of glass is that it softens the glare produced by sunlight and filters the passage of heat, creating a more open and airy atmosphere. The glass provides a clear view and allows the sun to flood into the winter garden, making it a bright and pleasant space like no other.
3. It is very modern
Glass can add a touch of modern sophistication to any building. A conservatory in steel and glass will certainly be elegant and suitable for both modern, contemporary, traditional and classic styles.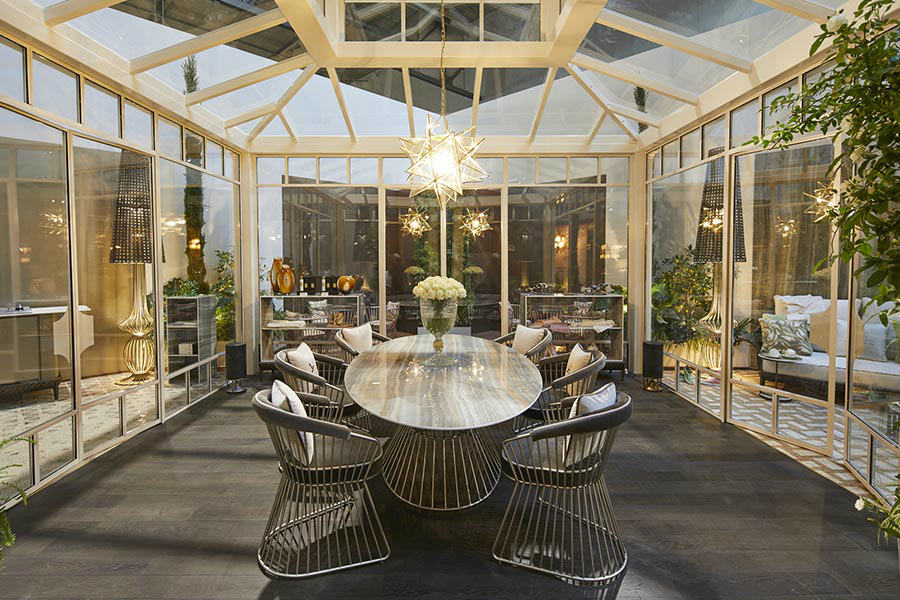 4. It is easy to clean, resistant and long-lasting
The glass is also very easy to clean, some types are even self-cleaning, so maintenance can be considered minimal.
This material is also very resistant and extremely durable, although it may not seem so.
Today's technology makes it possible to produce glass that is strong and safe.
5. It combines perfectly with any material
The glass walls, for their transparency, offer a great design versatility and the perfect accompaniment to any other material present in the conservatory.
6. It filters the heat of the sun's rays but not the light
Solar control is another great advantage of glass. The modern technologies used to make the glass contribute to ensuring maximum comfort throughout the year.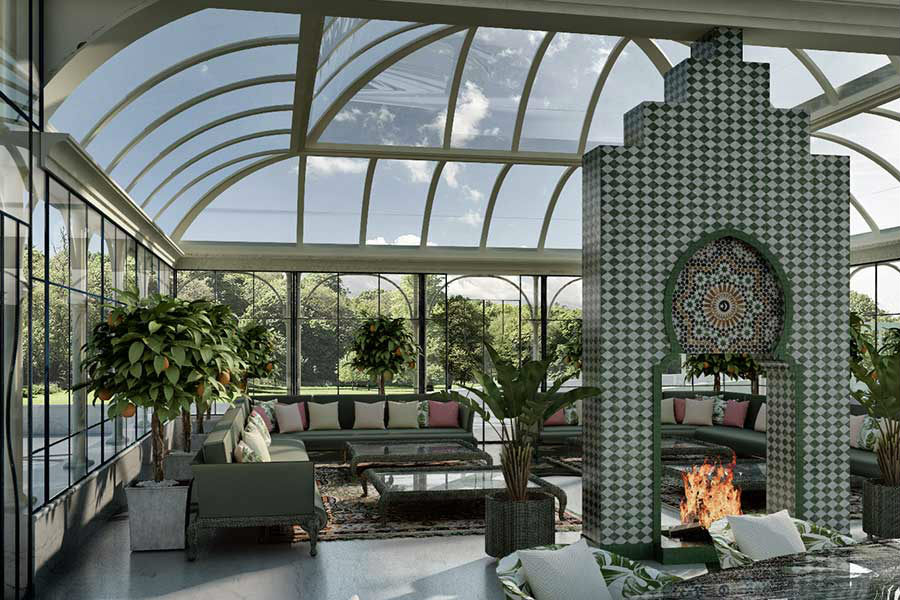 What to pay attention to when designing a conservatory in steel and glass
We now know what the numerous advantages of conservatories in steel and glass are.
By combining two materials of high quality, you can really get a functional, elegant and dreamy structure.
It is also good to know that in order to have full control of the internal temperature of a winter garden it is necessary to install an adequate heating (or cooling) system to enjoy the space all year round even in particularly difficult climatic conditions.
Why you shouldn't have any more doubts
Nowadays, conservatories are no longer used for their original purpose, but tend to be used as living spaces and for recreational purposes such as:
pool cover
recreation room/game room
kitchen/dining room
studio/fitness area
This variation in their use is made possible thanks to the application of suitable, resistant and elegant materials such as steel and glass.
Since designing and installing a winter garden is not a small project, it is advisable to rely on a specialised company, especially if it is a personalised structure.
DFN, for example, is an expert in the entire process of making conservatories in steel and glass and uses iron windows, which were already used in the past. This very thin profile allows great freedom in designing the facade and is, at the same time, highly resistant and equipped with a thermal break as well as all the accessories necessary to realise complex and amazing projects.