Every customer dreams of improving their property by adding an extension, such as a conservatory.
These extremely elegant structures are incredibly flexible spaces that can be used as kitchens, dining rooms, offices, or even as games rooms or indoor gyms.
The furniture in your conservatory needs to look the part while remaining suitable for use.
We've thought of a few tips to help you create a beautifully-designed conservatory with luxurious yet functional interior design.
How to get started with creating beautiful conservatory interiors
Furnishing a conservatory requires a different set of skills to furnishing a room in the main house or a hotel.
You need to assess a few additional factors and adopt a suitable methodology.
1. Pay attention to the style of the conservatory
Start by thinking about style when focusing on a conservatory's interior design.
There are a number of different styles out there but distinguishing between a modern conservatory or a more traditional style can be a crucial factor.
Make sure you identify the style of the conservatory in question before choosing furniture to ensure it looks good and is well-placed in the surrounding structure.
2. Make sure you think about size
The size of a conservatory will naturally influence its interior design: if a small conservatory, it might be more logical to go for comfortable but not cumbersome furniture, paying attention to appropriate proportions.
It's a good idea to make sure you don't overcrowd the room with over-the-top furniture and large objects, try to create a central focus with surrounding areas.
By doing so you will be able to achieve your desired interior design style and create an ordered look with that added wow factor.
3. Make decisions based on needs
It's time to truly focus on your customer's needs. It's essential that the conservatory meets these needs.
A bigger kitchen? A games room for the family that opens out? Or a living room where you can read and relax?
Things to consider when creating beautiful conservatory interiors
After taking into account the style of the conservatory, its size and what the customer intends to use if for, you can start to make decisions about more specific elements.
Furniture
There's a lot of choice out there when it comes to conservatory furniture, but if you're looking for something more traditional, we recommend rattan or wicker furniture, a timeless material that creates a modern atmosphere with a traditional soul, without skimping on luxury or class.
Rattan has been given a new lease of life on the market.
No longer only offered in simple styles, these days rattan furniture is an altogether classier affair, thanks to various details and chrome finishes that give this ancient material a certain majestic feel.
Every look should be completed with soft cushions and comfortable upholstery. This is the secret to creating comfortable and relaxing spaces.
If you want to create a particularly cosy space, we recommend adding fabrics and textures that complement the atmosphere you want to create: from geometric prints to floral embroidery, the important thing is that everything is in harmony and balance.
Colours
You should choose colours for your beautiful conservatory interior based on the outdoor environment and adjacent rooms.
Go for a shade that's a bit lighter than adjacent rooms in order to establish a connection between the two spaces and to avoid creating a "detached" feel that can sometimes characterise extensions added at a later date.
Warm and soft hues are great for creating relaxing and light atmospheres, with the additional possibility of a combination of bright and bold colours for a more contemporary look.
Another idea might be to opt for light-coloured furniture and then to add a splash of colour with a few elegant accessories, decorative lights, works of art or design elements.
Obviously, given a conservatory's high exposure to sunlight, it's good practice to purchase high-quality furniture and décor: try to avoid colours and fabrics that may fade over time, they should be both resistant and durable.
An excellent strategy for adding bright colours to conservatories is to make the most of natural light in order to highlight nuances with a strong accent. Bright elements could become focal points in the conservatory, characterising the room and helping to integrate the conservatory with the existing building.

Another excellent way to introduce colour is via the flooring.
Laying the same flooring in all rooms, including the conservatory, can create a common thread that unites interior spaces and gives greater value to the relationship between the conservatory and surrounding areas.
The same logic can be applied if wanting to improve interaction with outdoor spaces. If the conservatory has large doors and windows that open out onto the garden, why not create continuity between the indoors and outdoors by laying flooring that leads from the conservatory to the pool, for example.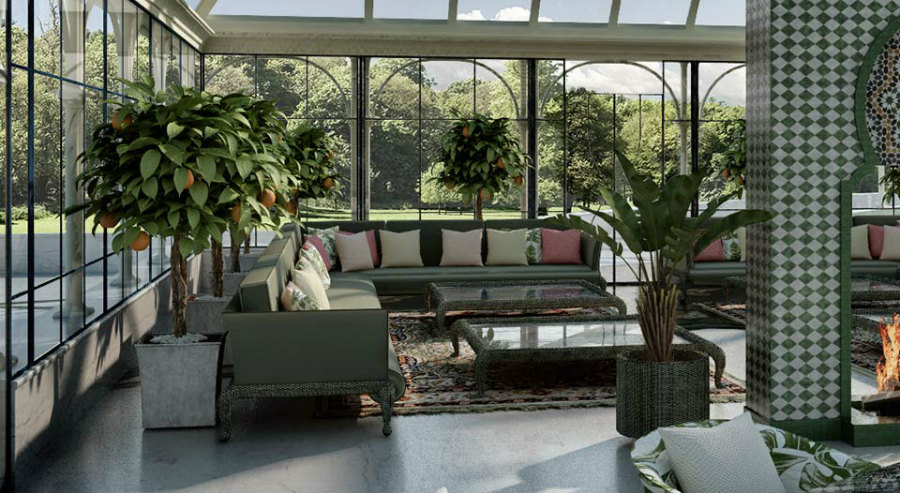 Plants
If you want to emphasise the relationship between the indoors and outdoors, why not use some natural colours for a bold and true-to-life look.
Adding a bit of greenery with some plants is also an excellent way to link the two spaces.
Plants can also maximise the feeling of open air by creating a cool and peaceful environment. You can get an even more natural result if you pair plants with white tones.
Don't make random choices when buying plants, opt for shapes that will revive corners or empty spaces, thus helping to create a beautiful conservatory interior.
Accessories
Fabrics are important when it comes to style. Bold, dynamic, refined, industrial... choosing fabrics and rugs that sit in harmony with the rest of the space is crucial when designing a pleasant, comfortable and elegant room.
Accessories, although small, are important details: if you're designing a dining room, for example, accessories should be placed on the table at the same height as the surrounding area, take a look at the luxurious and sophisticated sets offered by DFN with Mara Dal Cin for some inspiration.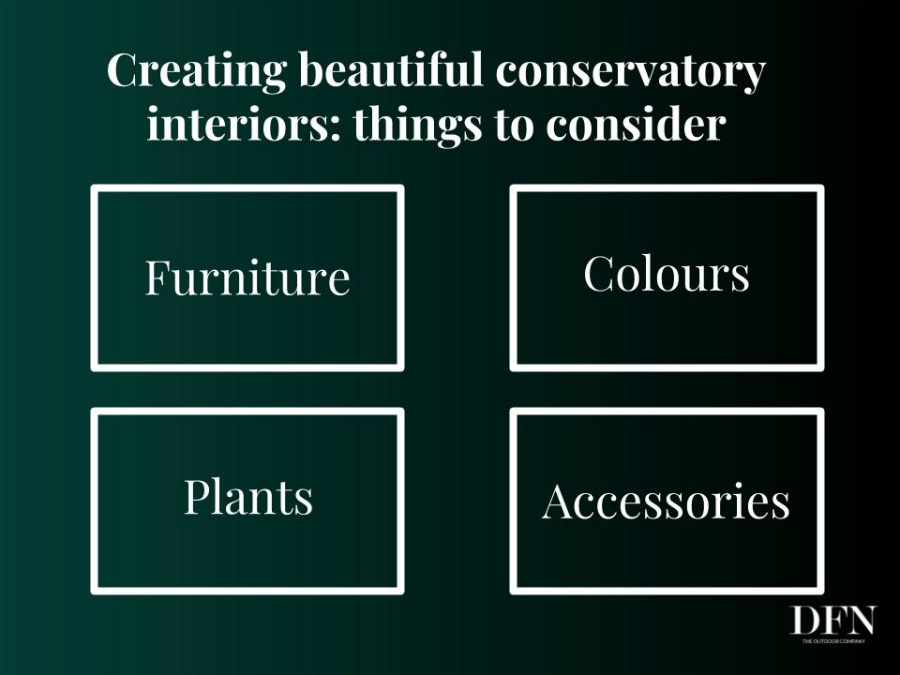 Three dream design ideas for beautiful conservatory interiors
Full of light, tranquillity and relaxation: it's easy to fall in love with a conservatory and it's important to make sure your dream theme complements the room's purpose.
Here are three suggestions for creating beautiful conservatory interiors.
1. For a conservatory by the sea
If you want to give your conservatory a summery feel reminiscent of the sea, why not go for a light-coloured stone floor and some synthetic rattan furniture.
If furnishing a conservatory near the sea or a swimming pool, why not take a look at DFN's Siderale collection by Samuele Mazza, made from iron and synthetic resin and resistant to all weather conditions.
This collection includes an embarrassment of options, from furniture to accessories to lamps, for complete looks that are coordinated in every detail.
Unprecedented relaxation and comfort is guaranteed thanks to the collection's craftsmanship and personalisation possibilities, combining stylistic research with practicality for exclusive environments.
Accessories can also help make a difference, shells, candles, textures, anchors and ropes will make customers feel as though they're relaxing on the pier.
Dare with blue, dark blue or turquoise, it can be an excellent move, but be careful to avoid making the environment feel too cold. Think about giving the space a bit of warmth with some red coral or orange, reminiscent of beautiful sunsets.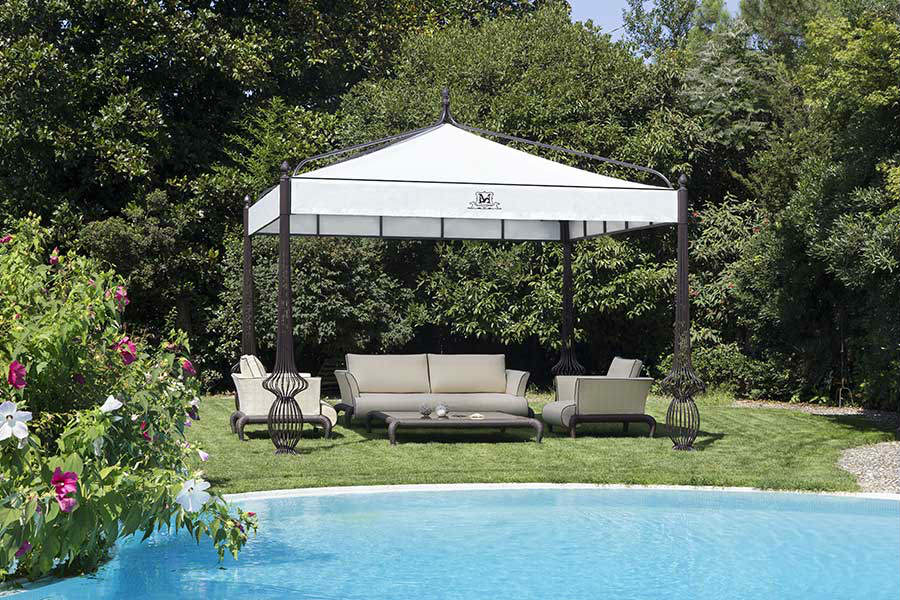 2. For a conservatory nestled in the mountains
The key element here is wooden flooring and soft, enveloping furniture rich in natural materials, such as armchairs, sofas and ottomans.
When furnishing conservatories in the mountains or in green surroundings, DFN suggests taking a look at its Orangerie collection by Samuele Mazza, furniture made from rattan and wicker - natural materials meticulously prepared and woven by hand.
This collection, which combines creative shapes with traditional materials, offers a

glamorous and timeless style, for luxurious settings.
Adding high ceilings and full-height windows helps to create a pleasant and airy yet cosy feel.
As for accessories and details, it's a good idea to include something original but luxurious and refined at the same time: such as fake fur rugs, warm blankets, candles, pine cones, wreaths or may even some wild flowers.
And, for a touch of colour, why not add a dash of red, orange or midnight blue.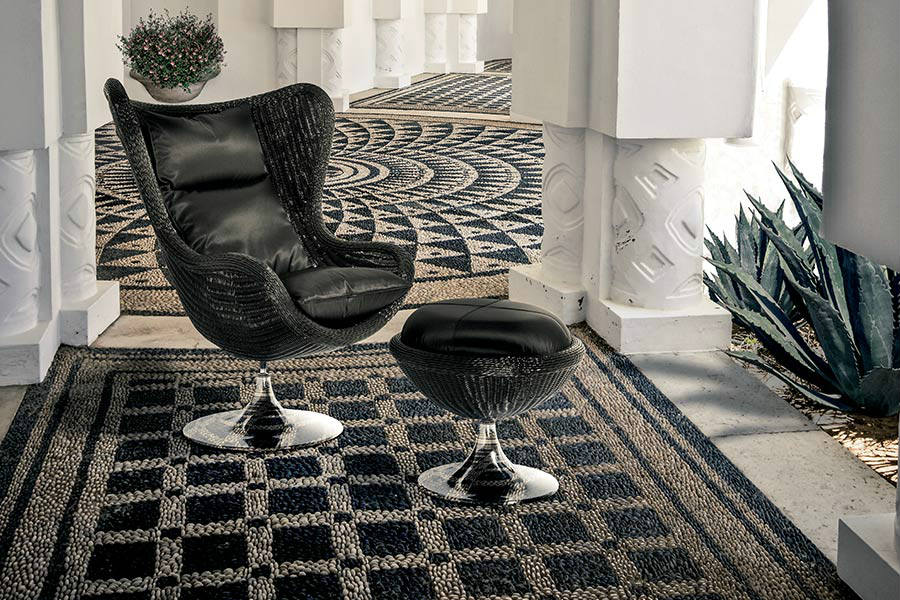 3. For a contemporary space with a touch of glamour
If your conservatory is as a refuge from city chaos, nestled in the privacy of a garden, a marble mosaic floor is probably the best choice to create an appealing space.
DFN has created the Demetra collection by Samuele Mazza for conservatories with a touch of glamour, with sleek lines that can express different looks and interpret the surrounding space. A truly contemporary style, distinguished by accurate lines and proportions, symmetry and balance, innovative materials and finishes.
The lifestyle proposed by Demetra takes all rooms in the home into consideration. Solidity, lightness and versatility make this collection the perfect solution for enhancing spaces in a variety of contemporary contexts, with high-quality fabrics that add a touch of luxury and exclusivity to any setting.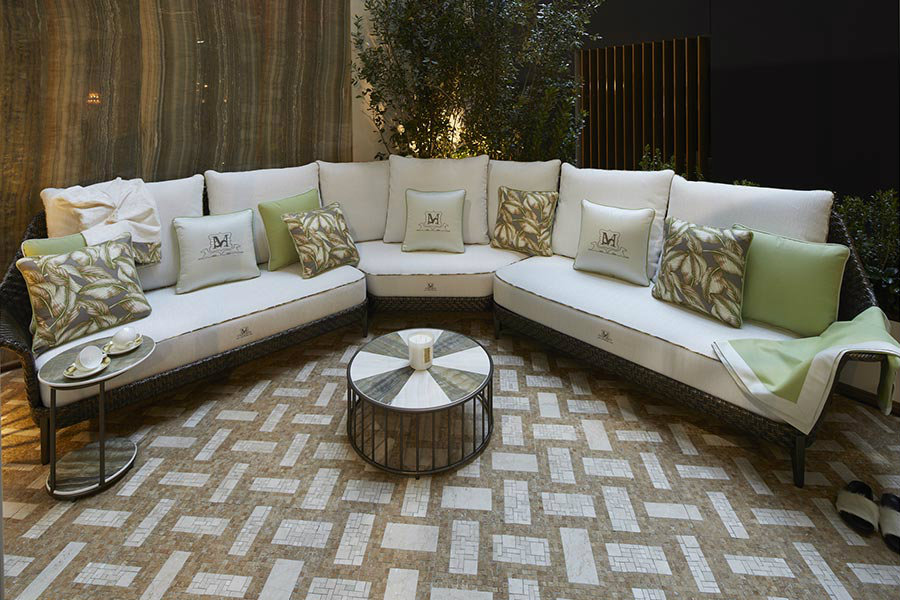 To summarise...
When designing beautiful conservatory interiors, remember to think about the property's architectural style, the customer's needs and the size of the conservatory.
You can add colour to a room with furniture and accessories in order to create a welcoming and appealing space with a touch of glamour.
Most importantly, make sure you choose suitable furniture that is coherent with its intended use in the conservatory, without forgetting the addition of a few lively plants.