What makes an outdoor kitchen truly unique are the details, elements and finishes the client chooses to personalise it and make it inimitable.
For the kitchen outdoor design project to be carried out impeccably, it is necessary for architects, designers and project managers involved in the design to listen to the client's personalisation requests.
In this regard, in this article, you will find some key tips for selecting the best solutions for the your project. Furthermore, we will take a look at some DFN outdoor kitchens, perfect for setting up outdoor areas.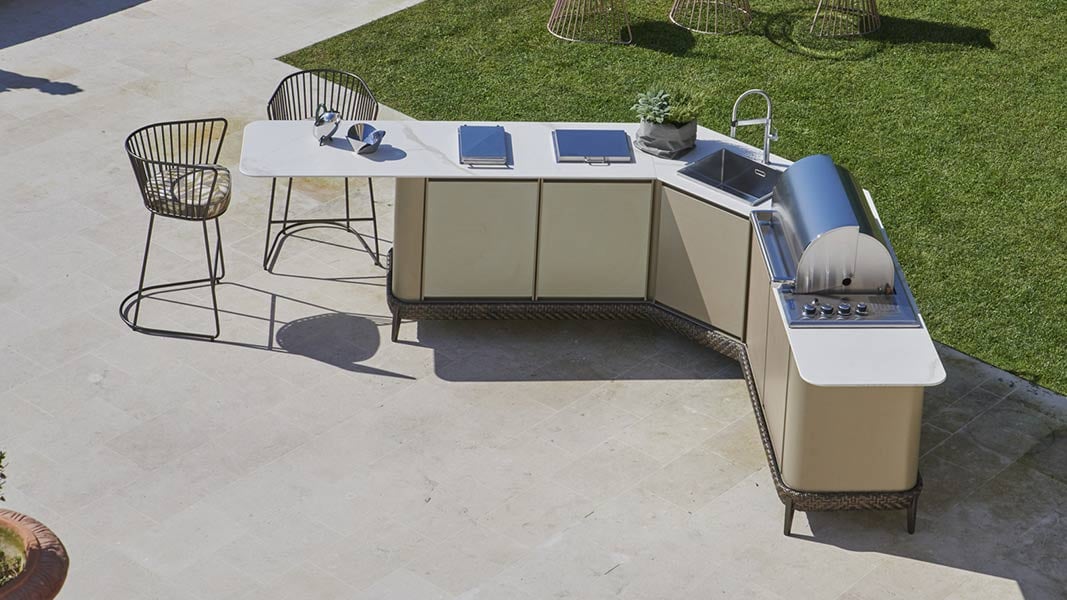 3 top tips for personalising an outdoor kitchen
To realise a personalised design project in detail both in technical and aesthetic terms, we suggest following these 3 top tips:
Let's continue in stages.
1. Evaluate the kitchen's location
First of all, it is advisable to evaluate the location of the outdoor kitchen carefully.
This first step is fundamental in any self-respecting outdoor kitchen design project, as it will help you to determine your layout, thus creating a kitchen area able to satisfy the client's needs.
2. Make a more functional kitchen layout
In outdoor kitchens, there are no defined or reduced spatial limits. Therefore, in principle, it is always possible to opt for large and well-structured kitchens.
It is essential to design a functional layout and satisfy the client's needs, taking into account all of their customs in the kitchen.
For a high-performance predisposition, it is necessary to respect the rule of the "work triangle": a principle that plans for a well-structured organisation of the main work areas in the kitchen, such as the hob, fridge and sink.
The correct arrangement of these "task" areas will positively affect the food preparation process and consequently, the entire kitchen experience.
3. Choose a kitchen that is resistant, efficient and glamorous
The outdoor kitchen is one of the main environments of the house. In addition to enhancing outdoor spaces, it should always offer excellent performance and efficiency, without giving up a captivating aesthetic.
It is a place of conviviality, where family and friends come together to spend time together. For this reason, it is necessary to make this outdoor home environment livable at 360 degrees.
In fact, in a luxury outdoor kitchen, in addition to the technical and structural aspects, the aesthetic character also plays a fundamental role.
Duration, efficiency and even the stylistic character of the kitchen are measured based on the materials used to make the kitchen.
That's why you should only choose high-quality materials with great aesthetic potential for your outdoor kitchen. They will not only guarantee a refined and elegant design solution but above all, high performance, thus facilitating use and cleaning.
DFN outdoor kitchens: the right solutions for creating the perfect outdoor space
Now that you have the 3 key guidelines to create a custom kitchen space, below we will show you the outdoor kitchens by Samuele Mazza, the DFN brand that offers solutions from the perfect synthesis of sophisticated design and high-performance materials.
Each model can be completely customised at the discretion of the client, starting from the appliances and colour to the layout, finishes and dimensions. The choice of exceptional finishes with a precious appearance is the key to a luxurious appearance.
Specifically, we will show you:
Let's analyse the characteristics of each solution more closely.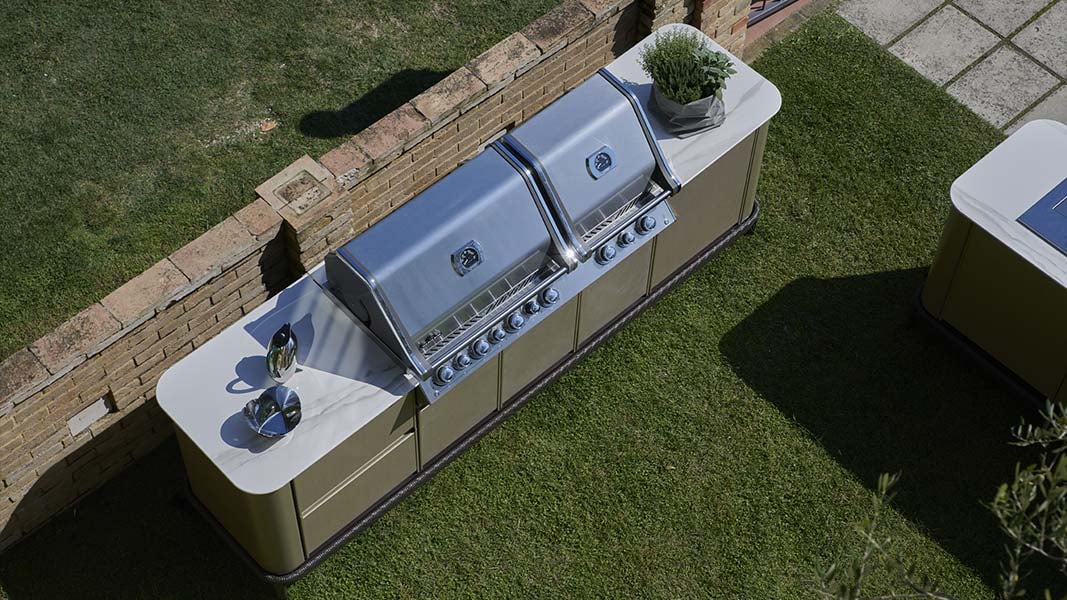 Curved Kitchen Multi-Element
The Curved Kitchen Multi-Element adapts to every kind of use. his is the most sophisticated version that allows you, through different separate modules, to organise an entire kitchen space.
Each element can be fitted with a BBQ, sink and gas hob to your liking. Each work area is organised at the customer's discretion, to ensure total comfort and a smooth progression of the preparation phases.
An outdoor kitchen model that follows a curvilinear design covered with high-performance materials.
In fact, the entire structure is made of iron and painted for outdoor use. It has an aluminium base covered in synthetic resin, with metal feet characterised by special finishes. The module doors are clad in ultra-thin porcelain stoneware with a characteristic metallic finish.
The worktop is always made of porcelain stoneware with a marble finish, 12 mm thick with a bevelled edge, a refined material that is highly resistant to heat, wear and atmospheric agents.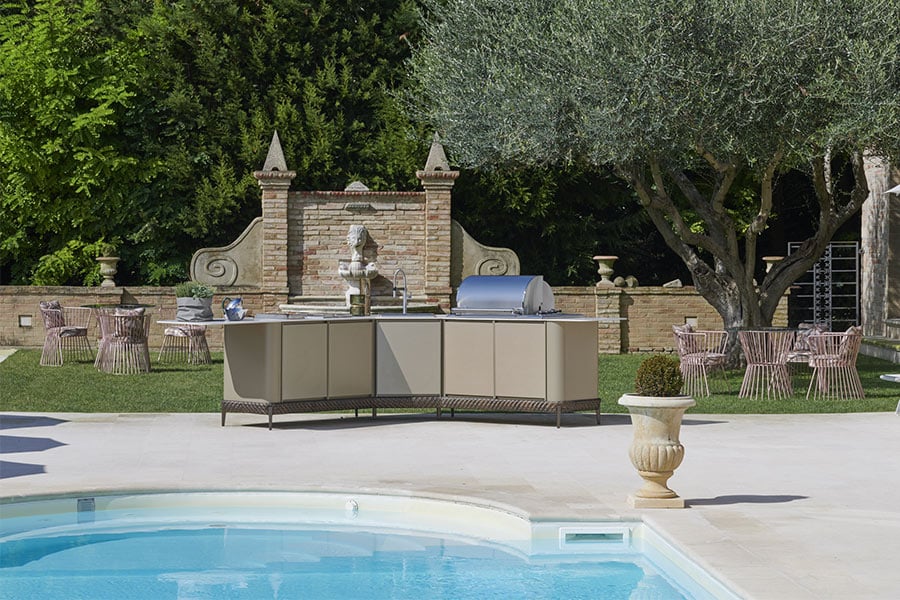 Curved Outdoor Kitchen Corner Composition
This mode, belonging to the Curved Kitchen line, evades traditional spatial schemes. In fact, it has a very particular angle. Thanks to its characteristic shapes, the worktop is wider and more functional: a real operating console organised to have everything on hand.
An unusual, innovative design that does not sacrifice functionality and comfort. From a single central position, it is possible to accomplish the cooking, preparation and washing functions.
We are talking about a luxury outdoor kitchen developed in an angular sense, in which technique and aesthetics meet, giving the client the comfort and style necessary to make their outdoor cooking area a livable and functional space.
Here we also find an aluminum base, covered in hand-woven synthetic rattan, which rests on bronze-finish metal feet. The doors, as per the peculiarity of the curved line, are covered in low thickness porcelain stoneware with a metallic finish, which ensures strength and resistance to the entire structure. This model is equipped with a modern BBQ, sink and hob.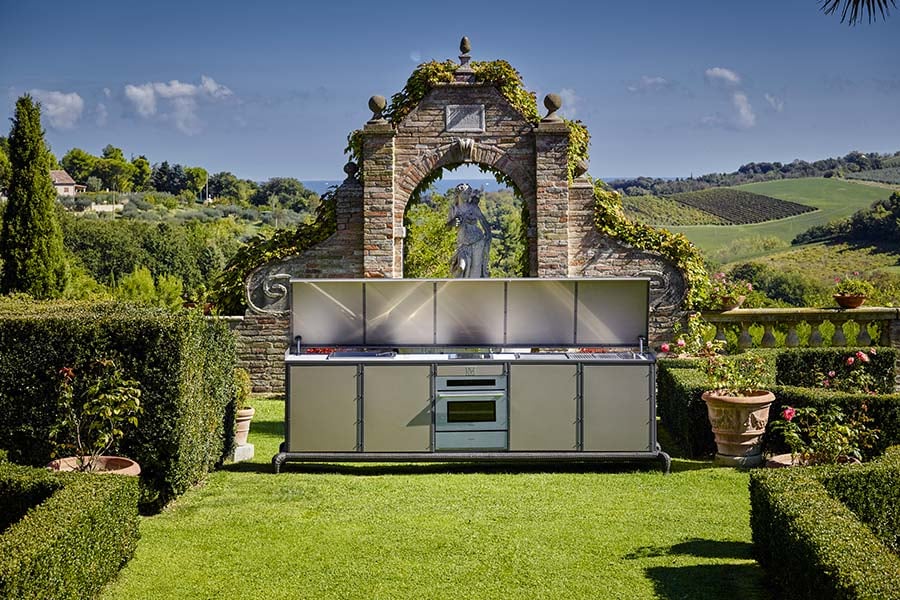 Linear Kitchen with Automatic Cover
The technology of the Linear Kitchen with Automatic Cover offers the possibility of protecting the worktop and the appliances with a cover that opens upwards and can be activated using a special remote control.
The model proposed here is equipped with an induction hob, sink with a retractable mixer to allow the closure of the cover, gas BBQ, wine cellar and porcelain stoneware top, suitable for contact with food and resistant to oxidation and high or rigid temperatures.
In addition to deciding the disposition of all the appliances, it is possible to choose a metal band for the base, which creates a plinth (polaris base), or a bridge structure covered in braided synthetic resin.
Island Kitchen with Sliding Table
The Island Kitchen with Sliding table allows you to experience the outdoor environments around an elegant sliding porcelain stoneware table with marble finish, which when open serves as a comfortable surface, while when closed covers and protects the worktop and kitchen appliances.
Specifically, this model is made with powder-coated iron modules and, just like the Linear Kitchen with Automatic cover, features a top made of porcelain stoneware, the same finish as the table, highly resistant to wear and weather. It is also possible in this case to customise the entire kitchen configuration, selecting between two bases of different styles.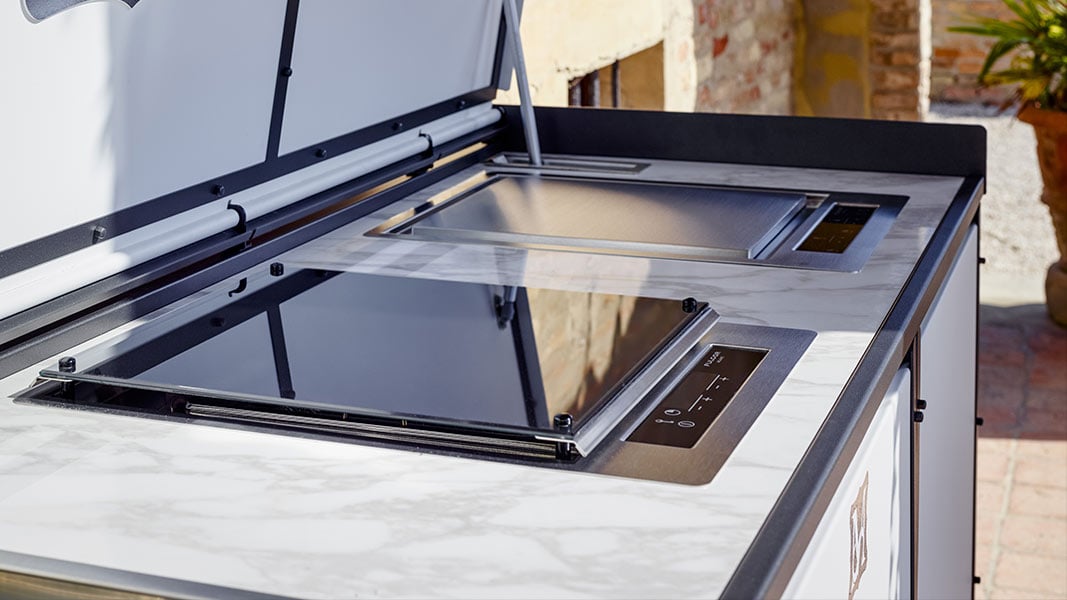 Linear Selection with Manual Cover
The Linear Section with Manual Cover is another model belonging to the Linear Kitchen collection.
It has a structure with almost identical technical characteristics to the Linear Kitchen with Automatic Cover, but in this case it has manual cover. The cover is also ideal to protect the entire work surface when the kitchen is not in use and at the same time finishes it when closed.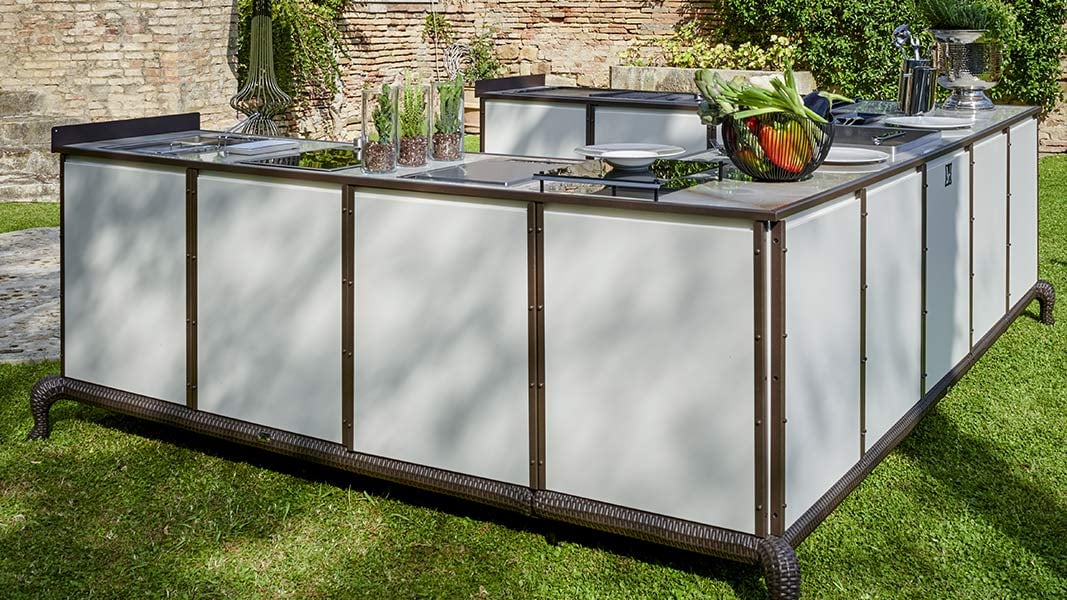 Sectional U Shaped Kitchen
The Sectional U Shaped Kitchen is one of the most complete outdoor kitchen models. It boasts a highly functional "U" layout and adapts to larger outdoor spaces.
It is equipped with two induction hobs, a teppanyaki, gas BBQ and wine cellar. The modules are characterised by extra durable powder coating, a finish that gives resistance to the entire structure and counteracts the oxidation process.
At the request of the client, it is possible to add sliding shelves for a customised solution.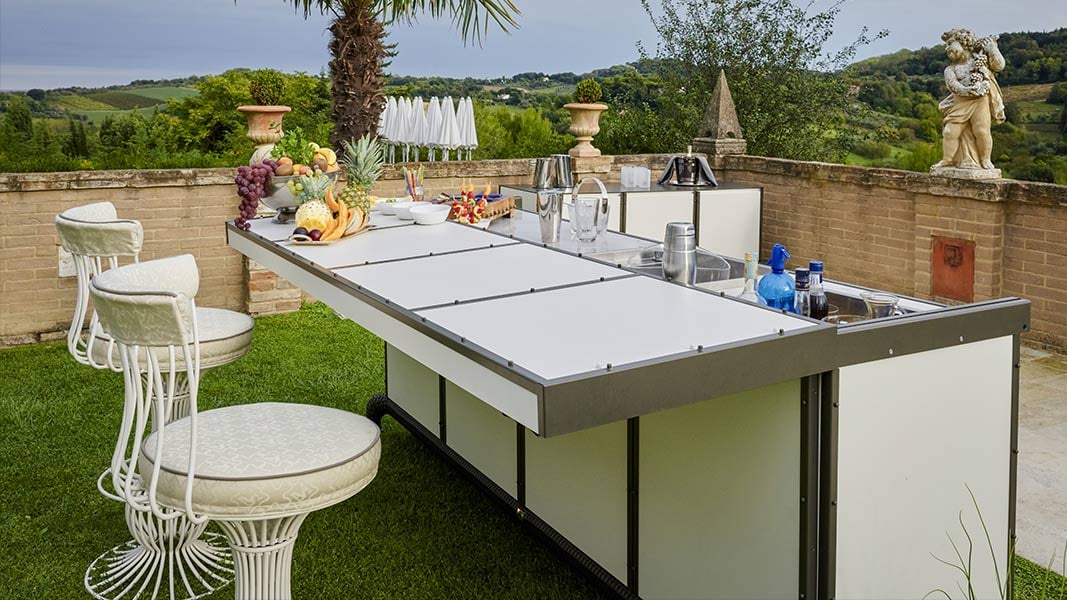 Linear Kitchen with Sliding Cover Bar Version
The Linear Kitchen with Sliding Cover shares the same stylistic and functional aspects of the other models in the Linear Kitchen collection, with a distinctive trait: a sliding cover towards the back of the kitchen that becomes a bar counter.
This feature is an additional element that emphasises the multifunctional nature of the proposal. The composition is complete with a sink with a retractable mixer, to allow the passage of the sliding cover and ice-bath.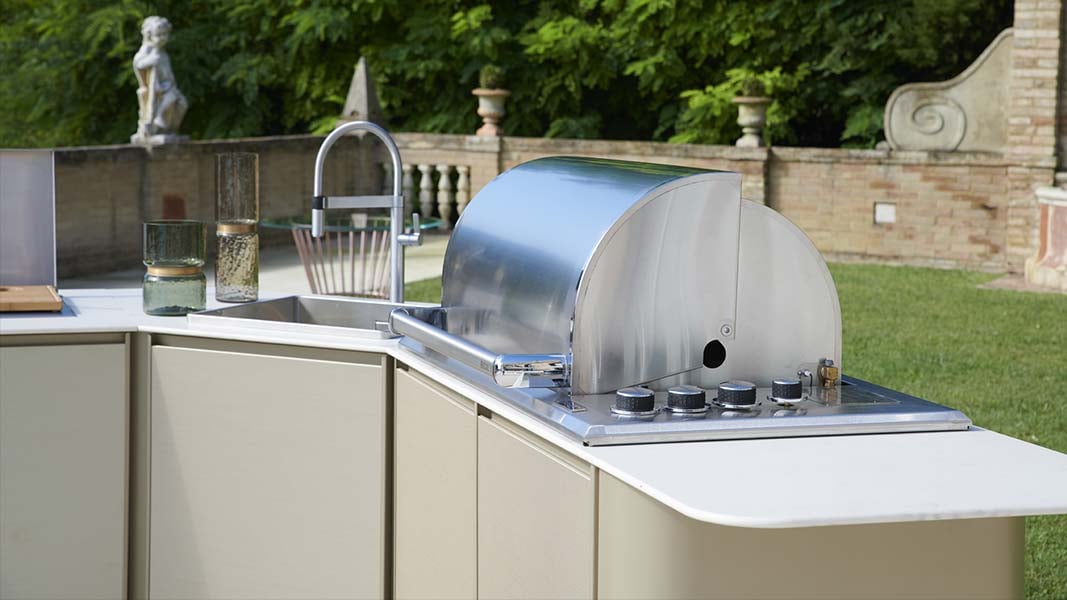 Linear Kitchen Barbecue Version
It is the smallest of the proposals suitable for small environments, where you want to have a design object that contains and hides a latest generation BBQ.
To complete the Linear Kitchen Barbecue Version, you can choose between an aluminium base covered in hand-woven synthetic rattan or a straight metal band. The iron structure is entirely powder-coated and, as a result, boasts an extra durable finish.
This model has a sliding cover that opens to the sides to hide the appliances. At the same time, these two porcelain stoneware elements become a comfortable work surface.
Evaluate the best solutions for the client and set the goal of satisfying their requests. A successful outdoor kitchen design project is recognised for its attention to detail and technical-stylistic care at each design phase, aimed at creating a personalised and high-performance area.
The importance of personalising an outdoor kitchen
To enjoy an exclusive outdoor experience, it is necessary to create a livable, high-performance kitchen area, whose design proposes a glamorous and modern style.
Follow our advice and select the outdoor kitchen by DFN that best reflects your client's preferences. Each solution has been specifically designed to meet the tastes of the most demanding client and adapt to any type of project.