In recent years, relaxing outdoors, enjoying your time alone or in the company of a few close friends, has become a real trend, a manifesto of exclusivity and lifestyle.
The sphere of liveability has extended far beyond the domestic walls and has embraced outdoor spaces, which have become scenarios in which it is possible to reproduce comfortable living environments.
Are you dealing with an exterior design project and would like to surprise your client? What better way than proposing the mounting of an elegant outdoor living room.
In this article, we will show you 10 outdoor living furnishings designed ad hoc to create a complete furnishing atmosphere, both in a functional and aesthetic sense.
Outdoor living furniture: 10 things you need to set up a highly livable area
As designers and architects, your primary objective is to give a fresh and pleasant appearance to the outdoor areas of the home you are dealing with, making them the ideal place to spend your time.
Below, you will find the 10 must-have elements to create the perfect outdoor living space:
Let's find out how to flawlessly set up an outdoor living room with these elements.
1.

An elegant shaded area

Creating a unique atmosphere is also important outdoors, as well as giving shape to the space that will host your living area, which will have to feel welcoming and create conviviality from the first moment, and, at the same time, have a great visual impact.

To satisfy these particular aesthetic-functional needs, you could opt for the design of:

The ideal solution for living and protecting outdoor spaces. Bioclimatic pergolas are equipped with a roof made with motorized adjustable slats that guarantee, when necessary, absolute protection from the weather, also allowing regulation of the solar intensity and favoring natural ventilation.

This is another valid solution that ensures comfort, full freedom of movement and above all guarantees an extremely pleasant outdoor experience. If you are interested in designing a luxury gazebo, let yourself be inspired by our Sole Collection.

A conservatory is a refined architectural solution in iron and glass capable of creating an outdoor room that has all the comforts of the indoors. By designing a conservatory, you will create a unique synergy between the surrounding nature and living space. In fact, these two areas as a whole will be more integrated, thanks to the presence of large windows and sliding doors that guarantee continuous interaction with the outdoors. The elegant combination of high-performance and exquisite materials, such as iron and glass, gives life to sophisticated solutions in the following three styles: classic, modern, and glamorous. Each genre is designed to satisfy everyone's taste, from the most sophisticated to the most traditional.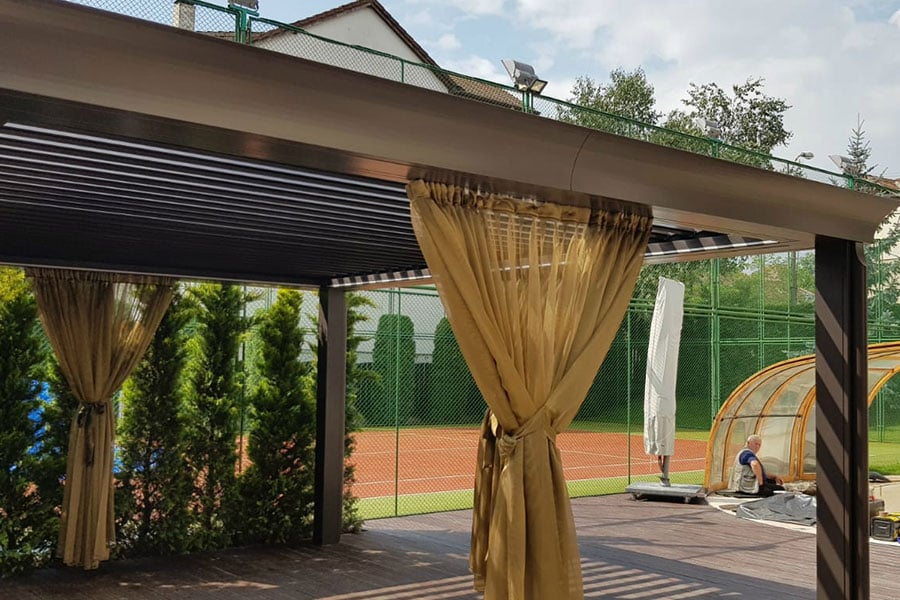 2.

Comfortable seating with a refined design

Comfort is synonymous with pleasure and exclusivity, especially when it comes to setting up an outdoor living room. In this regard, it is appropriate to carefully select the seating that will complete the furnishing composition of your living space.

The best collections of outdoor living furniture combine design and comfort into classy solutions, which excellently furnish the entire environment and, at the same time, are always comfortable. Make sure that the chairs, sofas and armchairs that you are going to introduce into your furnishing scenario are comfortable and beautiful to look at.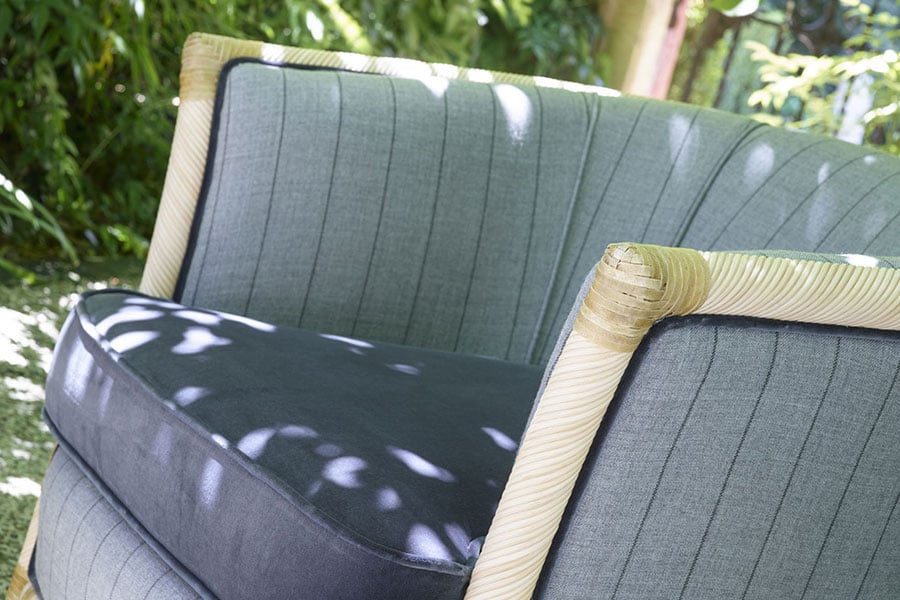 3.

A large table

What kind of living room would it be without a nice garden table, undoubtedly the true protagonist of the outdoor dining context.

Choose interior design solutions with a modern design, in the form that best suits your client, preferably made with an aluminum structure.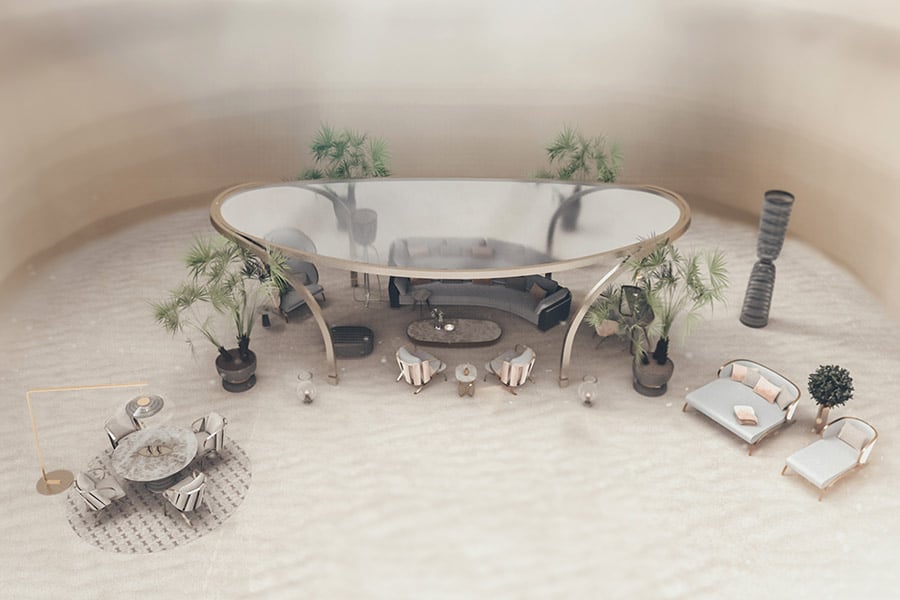 4.

A large outdoor rug

To give a sense of completeness to the entire furnishing atmosphere, we recommend introducing a large outdoor rug.

In addition to defining the outdoor living room, it will give the entire composition an added aesthetic value. To make it an even more sought-after item, you could suggest that your client embroider a motif representing their family or initials on it.


5.

Decorative lighting

To stay faithful to the furnishing style, choose lamps with a glamorous style, coordinated with the accessories selected for your project: standard arched lamps, floor lamps, wall lamps, and suspension lamps made with the best materials and certified for outdoor use.

Decorative lighting plays a central role in terms of atmosphere and perception of the setting. Therefore, the lamps you select for your project will not only be simple outdoor lighting design solutions but light points and decorative elements able to make the interior living shine even beyond dusk.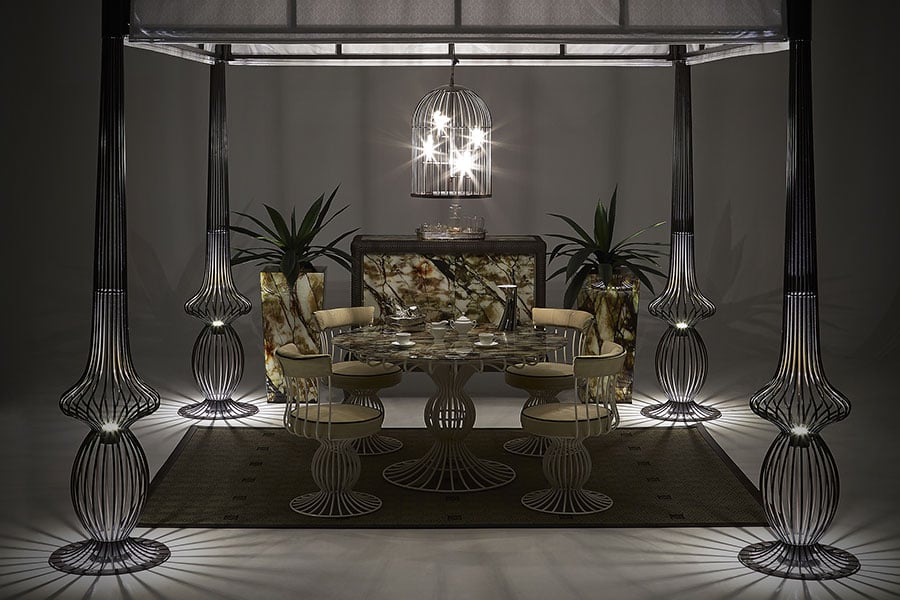 6.

Chaise longues e beds

To expand the sphere of comfort in the living area you are designing, add chaise longues and beds to the environment: elements of innately elegant furniture, small oases of relaxation, ideal for fully enjoying the outdoor experience.

Let yourself be guided by the client's tastes and choose the most suitable solutions for the furnishing context you are creating: models with a modern design or minimal charm.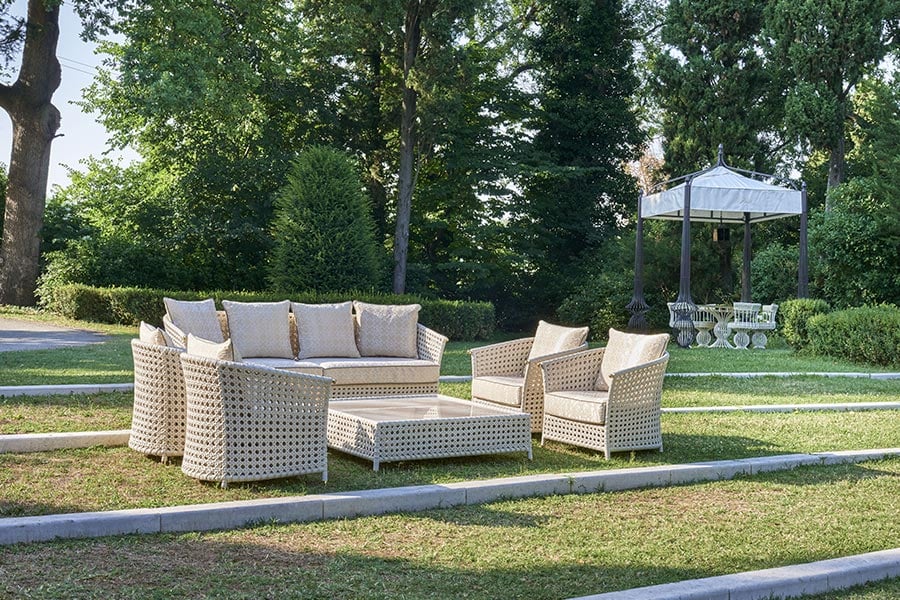 7.

Consoles, small shelves and storage boxes

Only in an environment where order reigns is it possible to fully enjoy one's time, in total relaxation and comfort.

By choosing furnishing accessories such as a console or storage boxes or even small shelves, in addition to completing the furnishing composition of the outdoor living space, you will provide enough space to store towels, pillows, crockery, tablecloths, etc. comfortably.


8.

Vases and planters

The ideal way to add an extra touch of color to the living area is certainly by placing vases and planters in different points around the location.

Green on green, with some showy color that breaks the chromatic continuity of the plants: a combination often adopted that never goes out of fashion.
9.

An open bar

Another valid solution to guarantee more storage space and, at the same time, offer a lounge area to support your living room is the installation of an open bar.

Make sure that its placement enjoys stylistic continuity and aesthetic harmony with the rest of the furniture; therefore, select matching chairs, cupboards, and drink cabinets.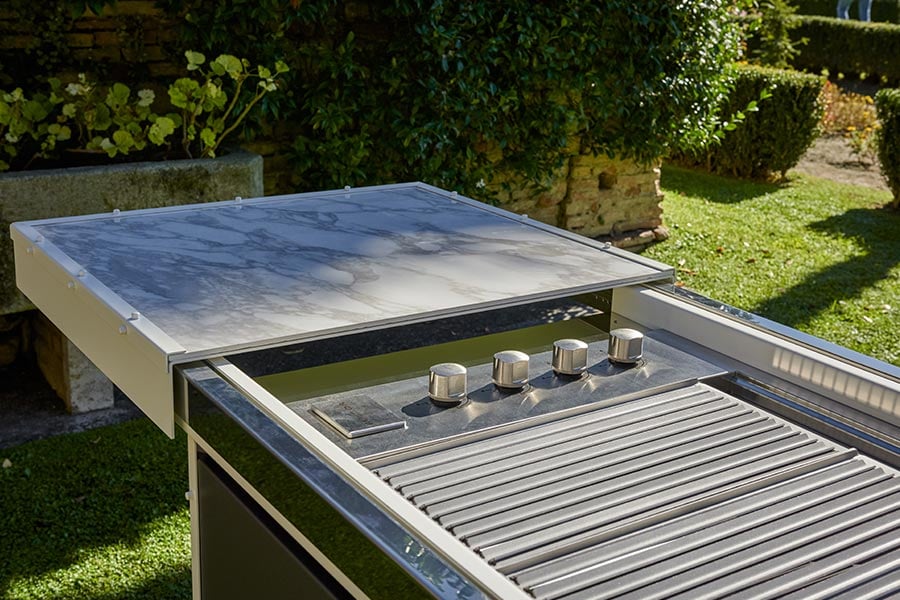 10.

An outdoor fireplace

Is there a more relaxing pastime than just being comfortable in front of a living flame that keeps us warm?

The most demanding client might want such a luxury even outdoors, which is why we suggest introducing an outdoor fireplace into the living room furnishing: an extra that will give your project more prestige.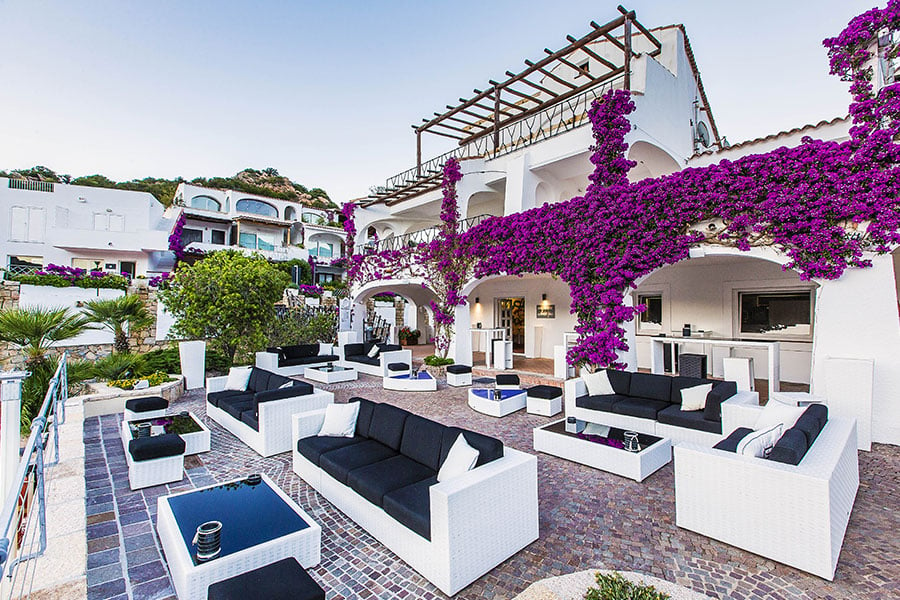 Choose our outdoor living furniture to design the perfect alfresco space
In this article, we have shown you which elements of outdoor living furniture to choose to realize a noteworthy project, in which ergonomics, comfort, and aesthetics are perfectly integrated.
Follow our style and design tips to achieve an impeccable result and make your client's outdoor space an alfresco space that has been carefully configured and impeccably furnished.